Tilt Wheel
The steering wheel should be adjusted before you drive.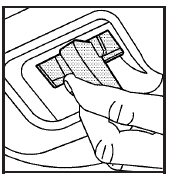 The tilt lever is located to the left of the steering column, under the turn signal lever.
It can be raised to the highest level to give your legs more room when you enter and exit the vehicle.
To tilt the wheel, hold the steering wheel and pull the lever toward you. Move the steering wheel to a comfortable level, then release the lever to lock the wheel in place.
See also:
Airbag Readiness Light
There is an airbag readiness light on the instrument panel, which shows the airbag symbol. The system checks the airbag's electrical system for malfunctions. The light tells you if there is an ...
Leaving Your Vehicle With theEngine Running
CAUTION: It can be dangerous to leave your vehicle with the engine running. Your vehicle could move suddenly if the shift lever is not fully in PARK (P) with the parking brake firmly set. And, ...
Universal Home Remote SystemOperation (With Three Round LED)
Your vehicle may have the Universal Home Remote System. If there are three round Light Emitting Diode (LED) above the Universal Home Remote System buttons, follow the instructions below. If th ...