Brake System Warning Light
The vehicle brake system consists of two hydraulic circuits. If one circuit is not working, the remaining circuit can still work to stop the vehicle. For normal braking performance, both circuits need to be working.
If the warning light comes on, there is a brake problem. Have the brake system inspected right away.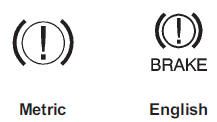 The brake indicator light should come on briefly as the engine is started. If it does not come on have the vehicle serviced by your dealer.

WARNING
The brake system might not be working properly if the brake system warning light is on. Driving with the brake system warning light on can lead to a crash. If the light is still on after the vehicle has been pulled off the road and carefully stopped, have the vehicle towed for service.
If the light comes on while driving, a chime sounds. Pull off the road and stop. The pedal might be harder to push or go closer to the floor. It might also take longer to stop. If the light is still on, have the vehicle towed for service. See Towing the Vehicle .
See also:
Folding Mirrors
Manual Foldaway Mirrors These mirrors can be folded inward to prevent damage when going through an automatic car wash. To fold, pull the mirror toward the vehicle. Push the mirror outward to ...
Playing an MP3
Insert a CD partway into the slot (Single CD Player), or press the load button and wait for the message to insert disc (Six-Disc CD Player), label side up. The player pulls it in, and the CD sho ...
Steering Wheel Adjustment
Steering Wheel Adjustment To adjust the steering wheel: 1. Pull the lever (A) down. 2. Move the steering wheel up or down. 3. Pull or push the steering wheel closer or away from you. 4. Pul ...