Compass Variance
Compass variance is the difference between earth's magnetic north and true geographic north. The mirror is set to zone eight upon leaving the factory.
It will be necessary to adjust the compass to compensate for compass variance if you live outside zone eight. Under certain circumstances, such as during a long distance cross-country trip, it will be necessary to adjust for compass variance.
If not adjusted to account for compass variance, your compass could give false readings.
To adjust for compass variance, do the following:
1. Find your current location and variance zone number on the following zone map.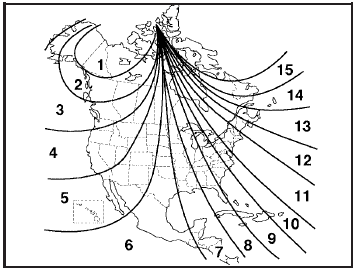 2. Press and hold the on/off button for six seconds. Release the button when (FOR ZONE) is displayed. The number shown is the current zone number.
3. Scroll through the zone numbers that appear in the window on the mirror by pressing the on/off button. Once you find your zone number, release the button. After about four seconds, the mirror will return to the compass display, and the new zone number will be set.
See also:
Traction Off Light
This light comes on briefly while starting the engine. If it does not, have the vehicle serviced by your dealer. If the system is working normally, the indicator light then goes off. The traction ...
Battery Run-Down Protection
This feature shuts off the dome, courtesy, and vanity lamps if they are left on for more than 20 minutes when the ignition is off. This will keep the battery from running down. If the battery ru ...
Window Messages
OPEN, THEN CLOSE DRIVER WINDOW This message is displayed when the window needs to be reprogrammed. If the vehicle's battery has been recharged or disconnected, you will need to reprogram each front ...