Child Restraint Systems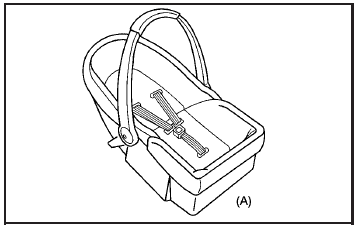 An infant car bed (A), a special bed made for use in a motor vehicle, is an infant restraint system designed to restrain or position a child on a continuous flat surface. Make sure that the infant's head rests toward the center of the vehicle.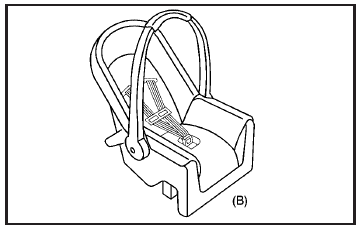 A rear-facing infant seat (B) provides restraint with the seating surface against the back of the infant. The harness system holds the infant in place and, in a crash, acts to keep the infant positioned in the restraint.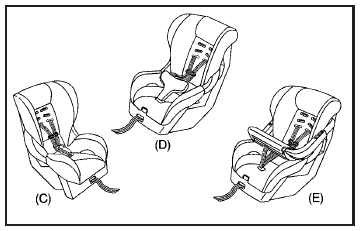 A forward-facing child seat (C-E) provides restraint for the child's body with the harness and also sometimes with surfaces such as T-shaped or shelf-like shields.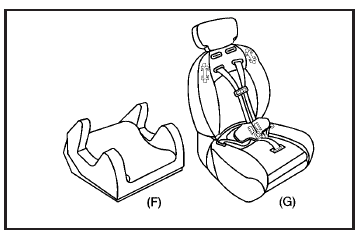 A booster seat (F-G) is a child restraint designed to improve the fit of the vehicle's safety belt system. Some booster seats have a shoulder belt positioner, and some high-back booster seats have a five-point harness. A booster seat can also help a child to see out the window.
Q: How Should I Use a Child Restraint?
A: A child restraint system is any device designed for use in a motor vehicle to restrain, seat, or position children. A built-in child restraint system is a permanent part of the motor vehicle. An add-on child restraint system is a portable one, which is purchased by the vehicle's owner. To help reduce injuries, an add-on child restraint must be secured in the vehicle. With built-in or add-on child restraints, the child has to be secured within the child restraint.
When choosing an add-on child restraint, be sure the child restraint is designed to be used in a vehicle. If it is, it will have a label saying that it meets federal motor vehicle safety standards. Then follow the instructions for the restraint. You may find these instructions on the restraint itself or in a booklet, or both.
See also:
General Towing Information
Only use towing equipment that has been designed for the vehicle. Contact your dealer or trailering dealer for assistance with preparing the vehicle for towing a trailer. See the following tra ...
Driving in Rain and on Wet Roads
Rain and wet roads can reduce vehicle traction and affect your ability to stop and accelerate. Always drive slower in these types of driving conditions and avoid driving through large puddles an ...
Care of the CD/DVD Player
Do not add a label to a disc, as it could get caught in the CD/DVD player. If a label is needed, label the top of the recorded disc with a marking pen. Do not use disc lens cleaners because ...