Child Restraint Systems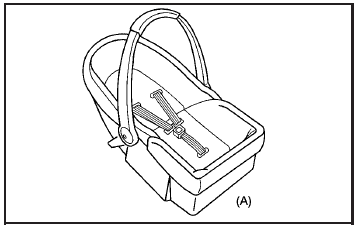 An infant car bed (A), a special bed made for use in a motor vehicle, is an infant restraint system designed to restrain or position a child on a continuous flat surface. Make sure that the infant's head rests toward the center of the vehicle.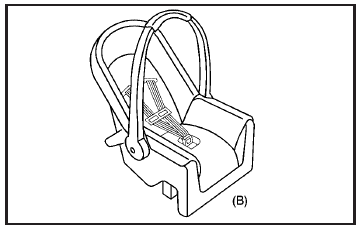 A rear-facing infant seat (B) provides restraint with the seating surface against the back of the infant. The harness system holds the infant in place and, in a crash, acts to keep the infant positioned in the restraint.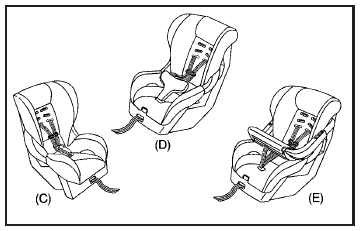 A forward-facing child seat (C-E) provides restraint for the child's body with the harness and also sometimes with surfaces such as T-shaped or shelf-like shields.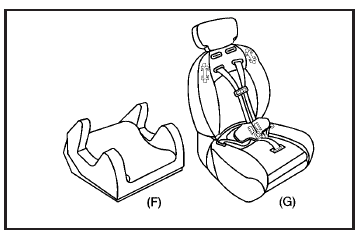 A booster seat (F-G) is a child restraint designed to improve the fit of the vehicle's safety belt system. Some booster seats have a shoulder belt positioner, and some high-back booster seats have a five-point harness. A booster seat can also help a child to see out the window.
Q: How Should I Use a Child Restraint?
A: A child restraint system is any device designed for use in a motor vehicle to restrain, seat, or position children. A built-in child restraint system is a permanent part of the motor vehicle. An add-on child restraint system is a portable one, which is purchased by the vehicle's owner. To help reduce injuries, an add-on child restraint must be secured in the vehicle. With built-in or add-on child restraints, the child has to be secured within the child restraint.
When choosing an add-on child restraint, be sure the child restraint is designed to be used in a vehicle. If it is, it will have a label saying that it meets federal motor vehicle safety standards. Then follow the instructions for the restraint. You may find these instructions on the restraint itself or in a booklet, or both.
See also:
Wheels and Trim—Aluminum or Chrome
The vehicle may have either aluminum or chrome-plated wheels. Keep the wheels clean using a soft, clean cloth with mild soap and water. Rinse with clean water. After rinsing thoroughly, dry with a so ...
Radio Data System (RDS)
The audio system has a Radio Data System (RDS). RDS features are available for use only on FM stations that broadcast RDS information. With RDS, the radio can do the following: • Seek to s ...
Engine Cooling System Messages
A/C OFF DUE TO HIGH ENGINE TEMP This message displays when the engine coolant becomes hotter than the normal operating temperature. To avoid added strain on a hot engine, the air conditioning compre ...