How to Inspect the Engine Air Cleaner/Filter
To inspect the air cleaner/filter, remove the filter from the vehicle and lightly shake the filter to release loose dust and dirt. If the filter remains covered with dirt, a new filter is required.
To inspect or replace the engine air cleaner/filter: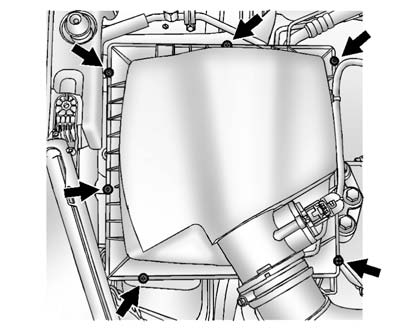 1. Remove the six screws that secure the cover on.
2. Lift off the cover.
3. Inspect or replace the engine air cleaner/filter.
4. Align the filter correctly.
5. Install the cover by lowering it over the filter and secure with the screws.

WARNING
Operating the engine with the air cleaner/filter off can cause you or others to be burned. The air cleaner not only cleans the air; it helps to stop flames if the engine backfires. Use caution when working on the engine and do not drive with the air cleaner/filter off.

Notice: If the air cleaner/filter is off, dirt can easily get into the engine, which could damage it. Always have the air cleaner/filter in place when you are driving.
See also:
Keyless Unlocking
With the RKE transmitter within 1m(3 ft), approach the door and pull the handle to unlock and open the door. If the transmitter is recognized, the door will unlock and open. Entering any door oth ...
Canceling a Remote Start
To cancel a remote start, do one of the following: Aim the RKE transmitter at the vehicle and press and hold / until the parking lamps turn off. Turn on the hazard warning flashers. Turn th ...
Automatic Transmission Fluid
How to Check Automatic Transmission Fluid It is not necessary to check the transmission fluid level. A transmission fluid leak is the only reason for fluid loss. If a leak occurs, take the vehicle ...