Lower Anchor and Top Tether Anchor Locations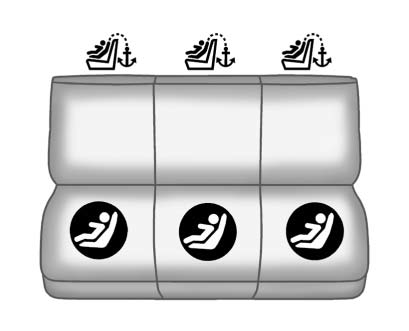 Rear Seat

(Top Tether Anchor): Seating positions with top tether anchors.

(Lower Anchor): Seating positions with two lower anchors.

To assist you in locating the lower anchors, each rear anchor position has a label, near the crease between the seatback and the seat cushion.

To assist you in locating the top tether anchors, the top tether anchor symbol is located on the cover.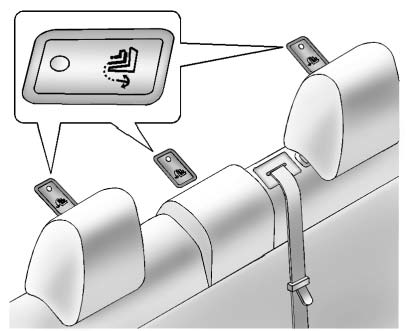 The top tether anchors are located under the covers, behind the rear seat, on the filler panel. Be sure to use an anchor located on the same side of the vehicle as the seating position where the child restraint will be placed.
Do not secure a child restraint in a position without a top tether anchor if a national or local law requires that the top tether be attached, or if the instructions that come with the child restraint say that the top tether must be attached.
According to accident statistics, children and infants are safer when properly restrained in a child restraint system or infant restraint system secured in a rear seating position. See Where to Put the Restraint for additional information.
See also:
Ignition Transmission Lock Check
While parked, and with the parking brake set, try to turn the ignition to LOCK/OFF in each shift lever position. ► For automatic transmission vehicles, the ignition should turn to LOCK/OFF only ...
Programmable Locking Feature
Following are the two locking modes that can be programmed: Mode 1: All doors lock when the transmission is shifted out of PARK (P). Mode 2: All doors lock when the vehicle speed is greater t ...
Accessories and Modifications
When you add non-GM accessories to your vehicle they can affect your vehicle's performance and safety, including such things as, airbags, braking, stability, ride and handling, emissions systems, ...