Windshield Wiper/Washer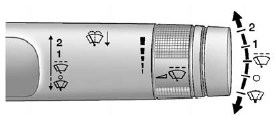 The windshield wiper lever is on the right side of the steering column. With the ignition in ACC/ ACCESSORY or ON/RUN, move the windshield wiper lever to select the wiper speed.
2: Use for fast wipes.
1: Use for slow wipes.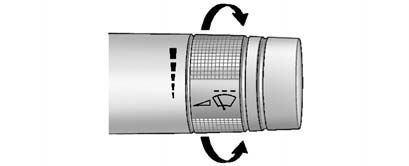 (Adjustable Interval Wipes): Move the lever to

, then turn the band up for more frequent wipes or down for less frequent wipes.

(Off): Use to turn the windshield wipers off.

(Mist): Briefly move the wiper lever down for a single wipe or hold down for several wipes. Clear ice and snow from the wiper blades before using them. If they are frozen to the windshield, carefully loosen or thaw them. Damaged wiper blades should be replaced. See Wiper Blade Replacement . Heavy snow or ice can overload the wipers. A circuit breaker stops them until the motor cools.
See also:
When the System Does Not Seem to Work Properly
Occasional missed alerts can occur under normal circumstances and will increase in wet conditions. The system does not need to be serviced due to an occasional missed alert. The number of mi ...
Comfortable, quiet ride
In addition to delivering surprising performance, Rainier's refined powertrains and precision-engineered chassis system contribute to a comfortable, quiet ride - a Buick distinction throughout its ...
Uniform Tire Quality Grading
Quality grades can be found where applicable on the tire sidewall between tread shoulder and maximum section width. For example: Treadwear 200 Traction AA Temperature A The following information rel ...