Steering Wheel Controls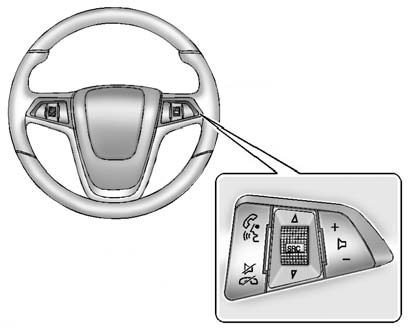 Some audio controls can be adjusted at the steering wheel.

(Push to Talk): For vehicles with a Bluetooth, OnStar, or navigation system, press to interact with those systems. See Bluetooth (Infotainment Controls) or Bluetooth (Overview) or Bluetooth (Voice Recognition) , OnStar Overview , or the separate navigation manual for more information.

(Mute/End Call): Press to silence the vehicle speakers only. Press again to turn the sound on. For vehicles with OnStar or Bluetooth systems, press to reject an incoming call, or end a current call.

(Source): Press to select an audio source.
Move the thumbwheel up or down to select the next or previous favorite radio station, CD, or MP3 track.

(Volume): Press + to increase the volume. Press − to decrease the volume.
See also:
Anti-theft Alarm System
This vehicle has an anti-theft alarm system. Arming the System To arm the system, close all of the windows and doors and then either: ► Press on the RKE transmitter. ► Lock the vehicl ...
Entering the Feature Settings Menu
1. Turn the ignition on and place the vehicle in P (Park). To avoid excessive drain on the battery, it is recommended that the headlamps are turned off. 2. Press the customization button to enter ...
Selecting the Right Engine Oil
Selecting the right engine oil depends on both the proper oil specification and viscosity grade. See Recommended Fluids and Lubricants. Specification Use and ask for licensed engine oils wi ...