Rear Window Lockout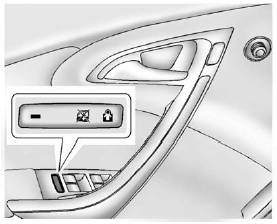 This feature prevents the rear passenger windows from operating, except from the driver position. The rear door locks will also be disabled and only operate from the driver door. This feature only works when the ignition is in ACC/ACCESSORY or ON/RUN, or in RAP.
Press

to activate the rear window lockout and door locks. The indicator light comes on when activated.
Press
to deactivate the lockout.
If the indicator light flashes, the feature may not be working properly.
See also:
Ignition Positions (Keyless Access)
The vehicle has an electronic keyless ignition with pushbutton start. Pressing the button cycles it through three modes: ACC/ACCESSORY, ON/RUN/START, and Stopping the Engine/OFF. The transmitter ...
Looks
Enticing younger buyers into Buick showrooms is job No. 1. While the Enclave crossover and the recently redesigned LaCrosse have chipped away at the average age of Buick owners — it's down from ...
Brake System Warning Light
The vehicle's hydraulic brake system is divided into two parts. If one part is not working, the other part can still work and stop the vehicle. For good braking both parts need to be working. ...