Rear Seats
Rear Seat Operation
Your vehicle has flip and fold second row seats which provide additional cargo space.
To flip and fold the seat(s), do the following: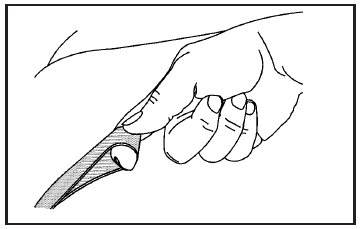 1. Pull up on the loop located where the seat cushion meets the seatback and flip the seat cushion forward.
Notice: Folding a rear seat with the safety belts still fastened may cause damage to the seat or the safety belts. Always unbuckle the safety belts and return them to their normal stowed position before folding a rear seat.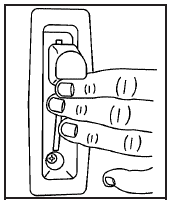 2. Lift the lever, located on the outboard side of the seatback, and fold the seatback forward.
The head restraint will automatically fold out of the way as the seatback is folded down.
To return the seat(s) to the original position, do the following:
CAUTION:
If the seatback is not locked, it could move forward in a sudden stop or crash.
That could cause injury to the person sitting there. Always push and pull on the seatback to be sure it is locked.
1. Lift the seatback until it locks into the upright position. Push and pull on the seatback to make sure it is locked.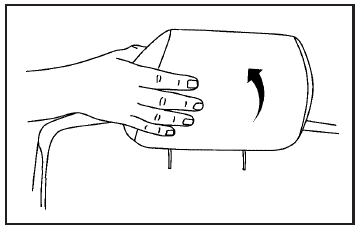 2. Return the head restraints to the upright position by reaching behind the seat and pulling it forward until it locks into place.
Push and pull on the head restraint to make sure that it is locked.
3. Flip the seat cushion back into place.
See also:
Instrument Panel, Vinyl, and OtherPlastic Surfaces
A soft cloth dampened with water may be used to remove dust. If a more thorough cleaning is necessary, a clean soft cloth dampened with a mild soap solution can be used to gently remove dust and d ...
Airbag System Check
The airbag system does not need regularly scheduled maintenance or replacement. Make sure the airbag readiness light is working. See Airbag Readiness Light for more information. Notice: If ...
Erasing Speed Memory
The cruise control set speed is erased from memory by pressing or if the ignition is turned off. ...