Jump Starting (On-board with eAssist Only)
If the vehicle fails to crank, it may be jump started by using the eAssist battery to charge the 12-volt battery.
Use the following procedure to activate the on-board jump start using the DIC controls.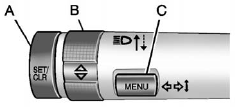 DIC Buttons
A. SET/CLR
B.

(Thumbwheel)
C. MENU
With the ignition key in the run position, proceed as follows:
1. Press MENU (C) on the turn signal lever until Vehicle Information Menu is displayed.
Use

(Thumbwheel) (B) to scroll through the menu items until Jump Start is displayed.
2. Press SET/CLR (A) to activate the jump start.
3. The system will then ask for confirmation. If yes is selected, the jump start will begin and the display will show JUMP START ACTIVE, WAIT TO START.
4. When the jump start is complete, the display will show JUMP START COMPLETE. ATTEMPT START.
If the vehicle is started, the on-board jump start function will be automatically disabled. If the vehicle cranks but does not start, the procedure may be repeated again. If the vehicle start is still unsuccessful, the jump start can be attempted using the following jump starting procedure under "Jump Starting (with or without eAssist).".
On-board jump starting may be unavailable due to the 12-volt battery charge level, the eAssist battery charge level, power capability, or an issue with the eAssist system. In these cases, the display will not be available because of the power issue, or the DIC will display JUMP START DISABLED.
SEE OWNERS MANUAL.
See also:
Turn and Lane-Change Signals
The turn signal has two upward (for right) and two downward (for left) positions. These positions let you signal a turn or a lane change. To signal a turn, move the lever all the way up or down. ...
Navigation
This display is used for the OnStar or Navigation System Turn-by-Turn guidance. See OnStar Overview or the navigation manual, if the vehicle has navigation, for more information. ...
Compass Variance
Compass variance is the difference between earth's magnetic north and true geographic north. The mirror is set to zone eight upon leaving the factory. It will be necessary to adjust the compass ...