Windows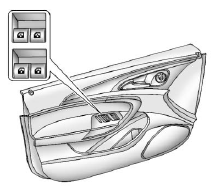 The power window switches are located on the driver door. Each passenger door has a switch that controls only that window.
Press the switch to lower the window. Pull the front of the switch up to raise it.
See Power Windows for additional information.
See also:
Driver Efficiency Gauge
For eAssist vehicles, this gauge assists in driving efficiently and will vary based on driver input. To maximize efficiency, keep the gauge pointed in the solid green zone in the center of ...
If the Vehicle Is Stuck
Slowly and cautiously spin the wheels to free the vehicle when stuck in sand, mud, ice, or snow. If stuck too severely for the traction system to free the vehicle, turn the traction system off an ...
Emissions Inspection and Maintenance Programs
Some local governments may have programs to inspect the on-vehicle emission control equipment. For the inspection, the emission system test equipment is connected to the vehicle's Data Link Conn ...