Remote Keyless Entry (RKE) System
The RKE transmitter will work up to 20m (65 ft) away from the vehicle.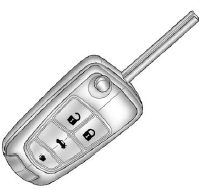 Press the key release button to extend the key blade. The key can be used for the ignition and all locks.
Press

to unlock the driver door or all doors
Press

to lock all doors.
Lock and unlock feedback can be personalized. See Vehicle Personalization .
Press and hold

to open the trunk.
Press and release

to locate the vehicle.
Press and hold

for at least two seconds to sound the panic alarm.
Press

again to cancel the panic alarm.
See Keys and Remote Keyless Entry (RKE) System Operation .
See also:
How to Add Automatic Transmission Fluid
Refer to the Maintenance Schedule to determine what kind of transmission fluid to use. See Recommended Fluids and Lubricants. If the fluid level is low, add only enough of the proper fluid to b ...
Footnotes — Maintenance Schedule Additional Required Services — Severe
a) Or every two years, whichever comes first. b) Check all fuel and vapor lines and hoses for proper hook-up, routing, and condition. Check that the purge valve, if the vehicle has one, wor ...
Recommended Fuel
Use regular unleaded gasoline with a posted octane rating of 87 or higher. If the octane rating is less than 87, an audible knocking noise, commonly referred to as spark knock, might be hear ...