Turn and Lane-Change Signals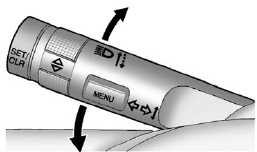 Turn and Lane-Change Signals
Move the lever all the way up or down to signal a turn.
An arrow on the instrument panel cluster flashes in the direction of the turn or lane change.
Raise or lower the lever until the arrow starts to flash to signal a lane change. Hold it there until the lane change is completed. If the lever is briefly pressed and released, the turn signal flashes three times.
The turn and lane-change signal can be turned off manually by moving the lever back to its original position.
If after signaling a turn or lane change the arrow flashes rapidly or does not come on, a signal bulb might be burned out.
Have the bulbs replaced. If the bulb is not burned out, check the fuse.
See Fuses and Circuit Breakers.
See also:
2004 Buick Rainier Review
The 2004 Buick Rainier leaves little doubt that an automaker can create two different vehicles with different characters from one platform. That's good news, considering all the automakers have ma ...
Power Steerin
If power steering assist is lost because the engine stops or the power steering system is not functioning, the vehicle can be steered but it will take more effort. ...
Passenger Sensing System
Your vehicle has a passenger sensing system for the right front passenger's position. A passenger airbag status indicator in the rearview mirror will be visible when you turn your ignition key to ...