Turn and Lane-Change Signals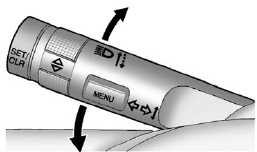 Turn and Lane-Change Signals
Move the lever all the way up or down to signal a turn.
An arrow on the instrument panel cluster flashes in the direction of the turn or lane change.
Raise or lower the lever until the arrow starts to flash to signal a lane change. Hold it there until the lane change is completed. If the lever is briefly pressed and released, the turn signal flashes three times.
The turn and lane-change signal can be turned off manually by moving the lever back to its original position.
If after signaling a turn or lane change the arrow flashes rapidly or does not come on, a signal bulb might be burned out.
Have the bulbs replaced. If the bulb is not burned out, check the fuse.
See Fuses and Circuit Breakers.
See also:
Power Steering
If power steering assist is lost because the engine stops or the system is not functioning, the vehicle can be steered but it will take more effort. ...
Parking Brake and Automatic Transmission P (Park) Mechanism Check
WARNING: When you are doing this check, the vehicle could begin to move. You or others could be injured and property could be damaged. Make sure there is room in front of the vehicle in case it ...
Navigation
OnStar navigation requires the Directions and Connections service plan. Push to receive directions or have them sent to the vehicle navigation screen. Destinations can also be forwarded to ...