Windows
WARNING!
Leaving children, helpless adults, or pets in a vehicle with the windows closed is dangerous.
They can be overcome by the extreme heat and suffer permanent injuries or even death from heat stroke. Never leave a child, a helpless adult, or a pet alone in a vehicle, especially with the windows closed in warm or hot weather.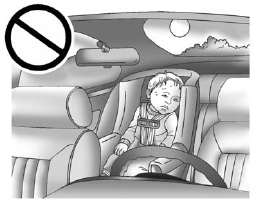 The vehicle aerodynamics are designed to improve fuel economy performance. This may result in a pulsing sound when a window is partially open. To reduce the sound, open another window or the sunroof (if equipped).
See also:
Customer Assistance Offices
Buick encourages customers to call the toll-free number for assistance. However, if a customer wishes to write or e-mail Buick, the letter should be addressed to: United States — Customer Assis ...
Power Door Locks
Select Power Door Locks and the following will be displayed: Auto Door Unlock Delay Door Lock Open Door Anti Lock Out Passive Door Unlock Auto Door Unlock This allows selection of which ...
Electrical System Overload
The vehicle has fuses and circuit breakers to protect against an electrical system overload. When the current electrical load is too heavy, the circuit breaker opens and closes, protecting the ci ...