Windshield Wiper/Washer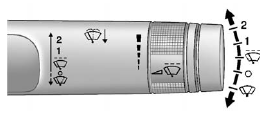 Windshield Wiper/Washer
The windshield wiper lever is on the right side of the steering column.
With the ignition in ACC/ACCESSORY or ON/RUN, move the windshield wiper lever to select the wiper speed.
2: Use for fast wipes.
1: Use for slow wipes.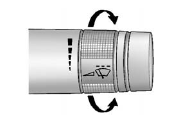 (Adjustable Interval Wipes):
Move the lever to

, then turn the band up for more frequent wipes or down for less frequent wipes.

(Off): Use to turn the windshield wipers off.

(Mist): Briefly move the wiper lever down for a single wipe or hold down for several wipes.
Clear ice and snow from the wiper blades before using them. If they are frozen to the windshield, carefully loosen or thaw them.
Damaged wiper blades should be replaced. See Wiper Blade Replacement.
Heavy snow or ice can overload the wipers. A circuit breaker stops them until the motor cools.
See also:
Display Settings
Press the Config button on the Home Page or the CONFIG button on the faceplate, then select Display Settings from the list. The following options may display: Dimming Mode: Press to change t ...
Windshield, Backglass, and WiperBlades
If the windshield is not clear after using the windshield washer, or if the wiper blade chatters when running, wax, sap or other material may be on the blade or windshield. Clean the outside of ...
Electrical System Overload
The vehicle has fuses and circuit breakers to protect against an electrical system overload. When the current electrical load is too heavy, the circuit breaker opens and closes, protecting th ...