Windshield Wiper/Washer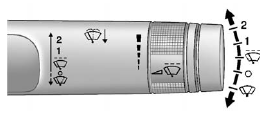 Windshield Wiper/Washer
The windshield wiper lever is on the right side of the steering column.
With the ignition in ACC/ACCESSORY or ON/RUN, move the windshield wiper lever to select the wiper speed.
2: Use for fast wipes.
1: Use for slow wipes.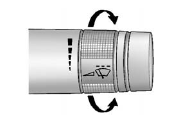 (Adjustable Interval Wipes):
Move the lever to

, then turn the band up for more frequent wipes or down for less frequent wipes.

(Off): Use to turn the windshield wipers off.

(Mist): Briefly move the wiper lever down for a single wipe or hold down for several wipes.
Clear ice and snow from the wiper blades before using them. If they are frozen to the windshield, carefully loosen or thaw them.
Damaged wiper blades should be replaced. See Wiper Blade Replacement.
Heavy snow or ice can overload the wipers. A circuit breaker stops them until the motor cools.
See also:
Service Publications OrderingInformation
Service Manuals Service Manuals have the diagnosis and repair information on engines, transmission, axle suspension, brakes, electrical, steering, body, etc. Transmission, Transaxle, Transfer Cas ...
Recommended Fuel
Use regular unleaded gasoline with a posted octane rating of 87 or higher. If the octane rating is less than 87, an audible knocking noise, commonly referred to as spark knock, might be hear ...
Overview (Radio with CD)
Overview (Radio with CD) A. RADIO/BAND Changes the band while listening to the radio. Selects the radio when listening to a different audio source. B. Buttons 1−6 Radio: Saves an ...