Windshield Wiper/Washer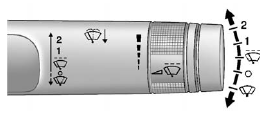 Windshield Wiper/Washer
The windshield wiper lever is on the right side of the steering column.
With the ignition in ACC/ACCESSORY or ON/RUN, move the windshield wiper lever to select the wiper speed.
2: Use for fast wipes.
1: Use for slow wipes.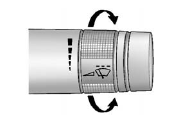 (Adjustable Interval Wipes):
Move the lever to

, then turn the band up for more frequent wipes or down for less frequent wipes.

(Off): Use to turn the windshield wipers off.

(Mist): Briefly move the wiper lever down for a single wipe or hold down for several wipes.
Clear ice and snow from the wiper blades before using them. If they are frozen to the windshield, carefully loosen or thaw them.
Damaged wiper blades should be replaced. See Wiper Blade Replacement.
Heavy snow or ice can overload the wipers. A circuit breaker stops them until the motor cools.
See also:
Engine Power Mes
ENGINE POWER IS REDUCED This message displays and a chime sounds when the cooling system temperature gets too hot and the engine further enters the engine coolant protection mode. See Engine Overh ...
Driver Information Center (DIC)
The Driver Information Center (DIC) displays information about the vehicle. It also displays warning messages if a system problem is detected. See Vehicle Messages for more information. All mes ...
Low Fuel Warning Light
This light, below the fuel gauge, comes on briefly when the engine is started. If it does not come on have the vehicle serviced by your dealer. If the system is working normally, the indic ...