Anti-Pinch Feature
If an object is in the path of the sunroof while it is closing, the anti-pinch feature will detect the object and stop the sunroof from closing at the point of the obstruction. The sunroof and sunshade will then return to the open or vent position. To close the sunroof once the obstruction has been removed, refer to "Express-Open/Express-Close" earlier in this section.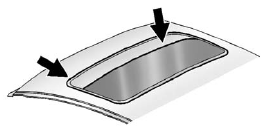 Dirt and debris may collect on the sunroof seal or in the track. This could cause issues with sunroof operation and noise. It could also plug the water drainage system.
Periodically open the sunroof and remove any obstacles or loose debris. Wipe the sunroof seal and roof sealing area using a clean cloth, mild soap, and water. Do not remove grease from the sunroof.
See also:
Remote Start Cooled Seats
If equipped and turned on, this feature will turn the cooled seats on when using remote start on warm days. Press SELECT when Remote Start Cooled Seats is highlighted. Turn the Menu knob to ...
How to Add Coolant to the Recovery Tank
WARNING: You can be burned if you spill coolant on hot engine parts. Coolant contains ethylene glycol and it will burn if the engine parts are hot enough. Do not spill coolant on a hot engine. ...
Warning Lights, Gages, andIndicators
This part describes the warning lights and gages that may be on your vehicle. The pictures will help you locate them. Warning lights and gages can signal that something is wrong before it become ...