Driver Information Center (DIC)
The DIC display is located in the center of the instrument panel cluster. It shows the status of many vehicle systems. The controls for the DIC are located on the turn signal lever.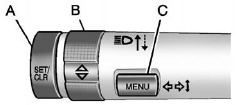 A. SET/CLR: Press to set or clear the menu item when it is displayed.
B.

: Use the thumbwheel to scroll through the items in each menu.
C. MENU: Press to display the Trip/Fuel Menu and the Vehicle Information Menu. This button is also used to return to or exit the last screen displayed on the DIC.
For more information, see Driver Information Center (DIC).
See also:
BATTERY SAVER ACTIVE
This message displays when the vehicle has detected that the battery voltage is dropping beyond a reasonable point. The battery saver system starts reducing certain features of the vehicle t ...
Safety Belt Extender
If the vehicle's safety belt will fasten around you, you should use it. But if a safety belt is not long enough, your dealer will order you an extender. When you go in to order it, take the hea ...
Care of CDs
If playing a CD-R, the sound quality can be reduced due to CD-R quality, the method of recording, the quality of the music that has been recorded, and the way the CD-R has been handled. Handle t ...