Steering Wheel Controls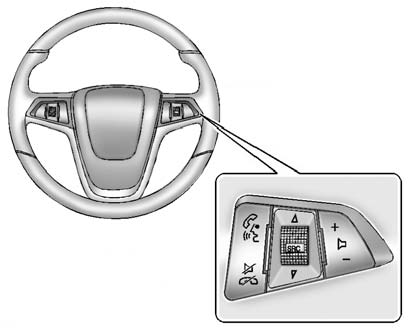 Some audio controls can be adjusted at the steering wheel.

(Push to Talk): For vehicles with a Bluetooth, OnStar, or navigation system, press to interact with those systems. See Bluetooth (Infotainment Controls) or Bluetooth (Overview) or Bluetooth (Voice Recognition) , OnStar Overview , or the separate navigation manual for more information.

(Mute/End Call): Press to silence the vehicle speakers only. Press again to turn the sound on. For vehicles with OnStar or Bluetooth systems, press to reject an incoming call, or end a current call.

(Source): Press to select an audio source.
Move the thumbwheel up or down to select the next or previous favorite radio station, CD, or MP3 track.

(Volume): Press + to increase the volume. Press − to decrease the volume.
See also:
Emergency
With Automatic Crash Response, the built-in system can automatically connect to help in a crash even if you cannot ask for it. Push to connect to an Emergency Advisor. GPS technology is used to ...
2011 Buick LaCrosse Review
Buick's goals with each new car seem the same: Get less stodgy and attract younger buyers. The redesigned LaCrosse's insipid TV ads may not help the cause, but the car they feature should. The LaC ...
Going & Stopping
All versions of the Enclave are powered by a 3.6-liter V-6 engine that drives a six-speed automatic transmission with a clutchless-manual mode that gives the driver control over shifting. Front-wh ...