Steering Wheel Controls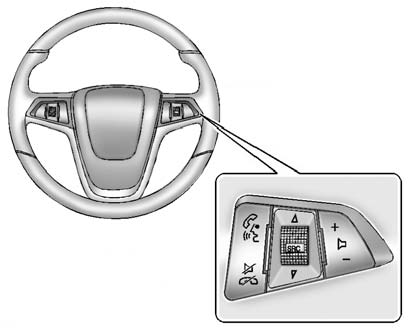 Some audio controls can be adjusted at the steering wheel.

(Push to Talk): For vehicles with a Bluetooth, OnStar, or navigation system, press to interact with those systems. See Bluetooth (Infotainment Controls) or Bluetooth (Overview) or Bluetooth (Voice Recognition) , OnStar Overview , or the separate navigation manual for more information.

(Mute/End Call): Press to silence the vehicle speakers only. Press again to turn the sound on. For vehicles with OnStar or Bluetooth systems, press to reject an incoming call, or end a current call.

(Source): Press to select an audio source.
Move the thumbwheel up or down to select the next or previous favorite radio station, CD, or MP3 track.

(Volume): Press + to increase the volume. Press − to decrease the volume.
See also:
Remote Keyless Entry (RKE) System Operation
The Remote Keyless Entry (RKE) transmitter functions work up to 60 m (195 feet) away from the vehicle. There are other conditions which can affect the performance of the transmitter. See Remote K ...
Doing Your Own Service Work
WARNING: You can be injured and the vehicle could be damaged if you try to do service work on a vehicle without knowing enough about it. • Be sure you have sufficient knowledge, experience, ...
Speedometer and Odometer
The speedometer shows the vehicle speed in both miles per hour (mph) and kilometers per hour (km/h). The odometer shows how far the vehicle has been driven, in either miles or kilometers. This ...