Steering Wheel Controls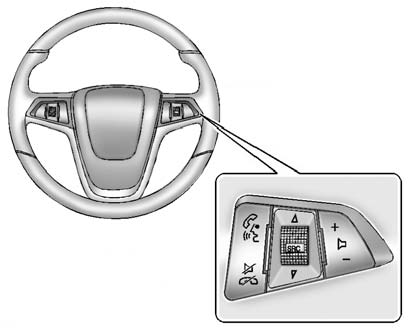 Some audio controls can be adjusted at the steering wheel.

(Push to Talk): For vehicles with a Bluetooth, OnStar, or navigation system, press to interact with those systems. See Bluetooth (Infotainment Controls) or Bluetooth (Overview) or Bluetooth (Voice Recognition) , OnStar Overview , or the separate navigation manual for more information.

(Mute/End Call): Press to silence the vehicle speakers only. Press again to turn the sound on. For vehicles with OnStar or Bluetooth systems, press to reject an incoming call, or end a current call.

(Source): Press to select an audio source.
Move the thumbwheel up or down to select the next or previous favorite radio station, CD, or MP3 track.

(Volume): Press + to increase the volume. Press − to decrease the volume.
See also:
Windshield and Wiper Blades
Clean the outside of the windshield with glass cleaner. Clean rubber blades using lint-free cloth or paper towel soaked with windshield washer fluid or a mild detergent. Wash the windshield thoroug ...
Maintenance Replacement Parts
Replacement parts identified below by name, part number, or specification can be obtained from your dealer. Part GM Part Number ACDelco Part Number Engine Air Cleaner/Filter ...
Power Outlets
The accessory power outlet can be used to plug in electrical equipment, such as a cell phone or MP3 player. This outlet is located under the armrest inside the center console storage. The outlet is ...