Steering Wheel Controls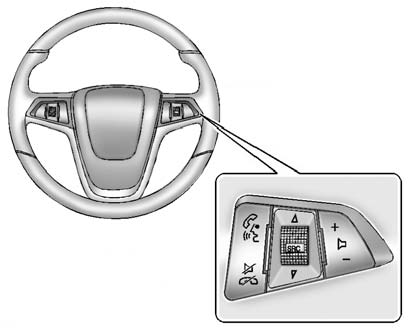 Some audio controls can be adjusted at the steering wheel.

(Push to Talk): For vehicles with a Bluetooth, OnStar, or navigation system, press to interact with those systems. See Bluetooth (Infotainment Controls) or Bluetooth (Overview) or Bluetooth (Voice Recognition) , OnStar Overview , or the separate navigation manual for more information.

(Mute/End Call): Press to silence the vehicle speakers only. Press again to turn the sound on. For vehicles with OnStar or Bluetooth systems, press to reject an incoming call, or end a current call.

(Source): Press to select an audio source.
Move the thumbwheel up or down to select the next or previous favorite radio station, CD, or MP3 track.

(Volume): Press + to increase the volume. Press − to decrease the volume.
See also:
Parental Control
This button is located behind the video screen. Press this button while a DVD or CD is playing to freeze the video and mute the audio. The video screen will display Parental Control ON and the p ...
New Vehicle Break-In
Notice: The vehicle does not need an elaborate break-in. But it will perform better in the long run if you follow these guidelines: Do not drive at any one constant speed, fast or slow, for the ...
Fuel
Use of the recommended fuel is an important part of the proper maintenance of this vehicle. To help keep the engine clean and maintain optimum vehicle performance, we recommend the use of gasoli ...