Cruise Control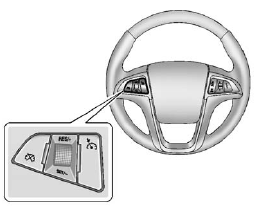 Cruise Control

: Press to turn the cruise control system on and off.

: Press to disengage cruise control without erasing the set speed from memory.
RES/+: Move the thumbwheel up to make the vehicle resume to a previously set speed or to accelerate.
SET/− : Move the thumbwheel down toward SET/- to set a speed and activate cruise control, or to make the vehicle decelerate.
See Cruise Control.
See also:
File System and Naming
The song name that displays is the song name that is contained in the ID3 tag. If the song name is not present in the ID3 tag, then the radio displays the file name without the extension (such as . ...
Playing an MP3 CD
For vehicles equipped with the MyLink or IntelliLink infotainment system, see the separate MyLink/ IntelliLink Features and Functions Guide for more information. To play an MP3 CD, follow the same ...
Hydroplaning
Hydroplaning is dangerous. Water can build up under the vehicle's tires so they actually ride on the water. This can happen if the road is wet enough and you are going fast enough. When the ve ...