Cruise Control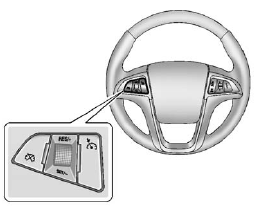 Cruise Control

: Press to turn the cruise control system on and off.

: Press to disengage cruise control without erasing the set speed from memory.
RES/+: Move the thumbwheel up to make the vehicle resume to a previously set speed or to accelerate.
SET/− : Move the thumbwheel down toward SET/- to set a speed and activate cruise control, or to make the vehicle decelerate.
See Cruise Control.
See also:
Compass
There is a compass display in the Driver Information Center (DIC). The compass receives its heading and other information from the Global Positioning System (GPS) antenna, StabiliTrak, and vehicle ...
Brake Fluid
The brake master cylinder reservoir is filled with DOT 3 brake fluid as indicated on the reservoir cap. See Engine Compartment Overview for the location of the reservoir. There are only two ...
Roadside Assistance Program
U.S.: 1-800-252-1112 TTY Users: 1-888-889-2438 Canada: 1-800-268-6800 As the owner of a new Buick, you are automatically enrolled in the Roadside Assistance program. See Roadside Assistance Pr ...