Cruise Control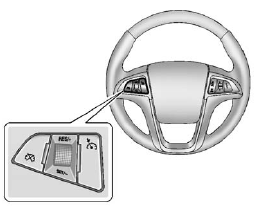 Cruise Control

: Press to turn the cruise control system on and off.

: Press to disengage cruise control without erasing the set speed from memory.
RES/+: Move the thumbwheel up to make the vehicle resume to a previously set speed or to accelerate.
SET/− : Move the thumbwheel down toward SET/- to set a speed and activate cruise control, or to make the vehicle decelerate.
See Cruise Control.
See also:
Adding Equipment to the Outsideof Your Vehicle
Things you might add to the outside of your vehicle can affect the airflow around it. This may cause wind noise and affect windshield washer performance. Check with your dealer before adding equip ...
Clock (Radio with CD and Touchscreen)
The infotainment system controls are used to access the time and date settings through the menu system. See Overview (Radio with CD) or Overview (Radio with CD/DVD and MEM) or Overview (Radi ...
All-Wheel Drive
When to Check Lubricant It is not necessary to regularly check fluid unless you suspect there is a leak or you hear an unusual noise. A fluid loss could indicate a problem. Have it inspected and r ...