Cruise Control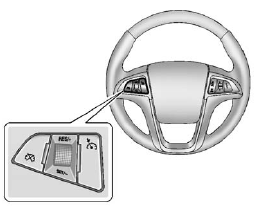 Cruise Control

: Press to turn the cruise control system on and off.

: Press to disengage cruise control without erasing the set speed from memory.
RES/+: Move the thumbwheel up to make the vehicle resume to a previously set speed or to accelerate.
SET/− : Move the thumbwheel down toward SET/- to set a speed and activate cruise control, or to make the vehicle decelerate.
See Cruise Control.
See also:
Wiper Blade Replacement
Windshield wiper blades should be inspected for wear and cracking. See Maintenance Schedule for more information. Replacement blades come in different types and are removed in different ways. ...
Traveling to Remote Areas
It makes sense to plan your trip, especially when going to a remote area. Know the terrain and plan your route. You are much less likely to get bad surprises. Get accurate maps of trails and terrai ...
PASS-KeyВ® III+ Electronic Immobilizer
See Radio Frequency Statement for information regarding Part 15 of the Federal Communications Commission (FCC) Rules and RSS-210/211 of Industry and Science Canada. ...