Cruise Control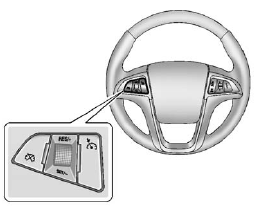 Cruise Control

: Press to turn the cruise control system on and off.

: Press to disengage cruise control without erasing the set speed from memory.
RES/+: Move the thumbwheel up to make the vehicle resume to a previously set speed or to accelerate.
SET/− : Move the thumbwheel down toward SET/- to set a speed and activate cruise control, or to make the vehicle decelerate.
See Cruise Control.
See also:
LOW BATTERY
This message is displayed when the battery voltage is low. See Battery for more information. ...
Engine Coolant Temperature Gauge
Metric English This gauge shows the engine coolant temperature. If the gauge pointer moves toward the shaded area, the engine is too hot. In eAssist vehicles, the engine coolant warnin ...
Collision Parts
Genuine GM Collision parts are new parts made with the same materials and construction methods as the parts with which your vehicle was originally built. Genuine GM Collision parts are your best ...