Windows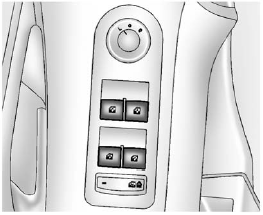 Press the switch to lower the window. Pull the switch up to raise it.
For more information, see Power Windows.
See also:
Tire Messages
TIRE LOW ADD AIR TO TIRE On vehicles with the Tire Pressure Monitor System (TPMS), this message displays when the pressure in one or more of the vehicle's tires is low. This message also displ ...
Safety Locks
The vehicle may have power safety locks or manual safety locks. Power safety locks will lock the rear windows and not allow the rear doors to be opened from the inside. Manual safety locks do not all ...
Anti-Lock Brake SystemWarning Light
With the Anti-Lock Brake System (ABS), this light will come on when you start your engine and may stay on for several seconds, that is normal. A chime may also sound when the light comes on ...