Remote Keyless Entry (RKE) System
The Remote Keyless Entry (RKE) transmitter will work up to 20 m (65 ft) away from the vehicle. On vehicles with remote start the distance will be greater.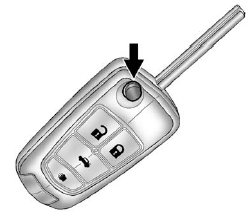 Press the button to extend the key.
The key can be used for all locks.
This key is also used for the ignition, if the vehicle does not have pushbutton start.

: Press to unlock the driver door or all doors.

: Press to lock all doors.
Lock and unlock feedback can be personalized.
: Press and hold to open the trunk.

: Press and release one time to locate the vehicle. Press and hold for at least two seconds to sound the panic alarm. Press again to cancel the panic alarm.
See Keys and Remote Keyless Entry (RKE) System Operation.
See also:
Buying New Tires
GM has developed and matched specific tires for your vehicle. The original equipment tires installed on your vehicle, when it was new, were designed to meet General Motors Tire Performance Cri ...
Power Steering Fluid
When to Check Power Steering Fluid It is not necessary to regularly check power steering fluid unless you suspect there is a leak in the system or you hear an unusual noise. A fluid loss in this ...
Hydroplaning
Hydroplaning is dangerous. Water can build up under the vehicle's tires so they actually ride on the water. This can happen if the road is wet enough and you are going fast enough. When the ...