Remote Keyless Entry (RKE) System
The Remote Keyless Entry (RKE) transmitter will work up to 20 m (65 ft) away from the vehicle. On vehicles with remote start the distance will be greater.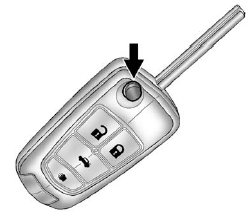 Press the button to extend the key.
The key can be used for all locks.
This key is also used for the ignition, if the vehicle does not have pushbutton start.

: Press to unlock the driver door or all doors.

: Press to lock all doors.
Lock and unlock feedback can be personalized.
: Press and hold to open the trunk.

: Press and release one time to locate the vehicle. Press and hold for at least two seconds to sound the panic alarm. Press again to cancel the panic alarm.
See Keys and Remote Keyless Entry (RKE) System Operation.
See also:
Customer Assistance for Text Telephone (TTY) Users
To assist customers who are deaf, hard of hearing, or speech-impaired and who use Text Telephones (TTYs), Buick has TTY equipment available at its Customer Assistance Center. Any TTY user can communic ...
Climate Controls
The heating, cooling, and ventilation for the vehicle can be controlled with these systems. A. Air Conditioning B. Driver and Passenger Temperature Controls C. Heated Seats D. Air Deliv ...
Theft-Deterrent Feature
The theft-deterrent feature works by learning a portion of the Vehicle Identification Number (VIN) to the infotainment system. The infotainment system does not operate if it is stolen or moved to a di ...