Wiper Blade Replacement
Windshield wiper blades should be inspected for wear or cracking. See Scheduled Maintenance for more information.
It is a good idea to clean or replace the wiper blade assembly on a regular basis or when worn. For proper windshield wiper blade length and type, see Maintenance Replacement Parts .
Notice: Allowing the wiper blade arm to touch the windshield when no wiper blade is installed could damage the windshield. Any damage that occurs would not be covered by your warranty. Do not allow the wiper blade arm to touch the windshield.
To replace the wiper blade:
1. Pull the wiper assembly away from the windshield.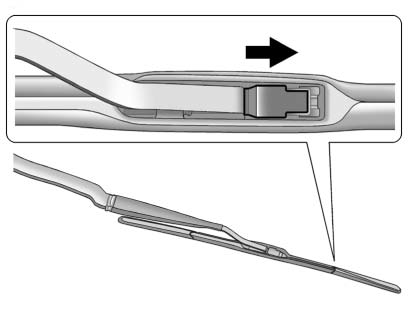 2. Lift up on the latch in the middle of the wiper blade where the wiper arm attaches.
3. With the latch open, pull the wiper blade down toward the windshield far enough to release it from the J-hooked end of the wiper arm.
4. Remove the wiper blade.
5. Reverse Steps 1 through 3 for wiper blade replacement.
See also:
How to Check Automatic Transmission Fluid (3.9L Engine)
Because this operation can be a little difficult, you may choose to have this done at the dealer/retailer service department. If you do it yourself, be sure to follow all the instructions here, ...
Battery
Refer to the replacement number shown on the original battery label when a new battery is needed. See Engine Compartment Overview for battery location. DANGER Battery posts, terminals, and r ...
Steering Wheel Adjustment
To adjust the steering wheel: 1. Pull the lever (A) down. 2. Move the steering wheel up or down. 3. Pull or push the steering wheel closer or away from you. 4. Lift the lever (A) up to lock the ...