Wiper Blade Replacement
Windshield wiper blades should be inspected for wear or cracking. See Scheduled Maintenance for more information.
It is a good idea to clean or replace the wiper blade assembly on a regular basis or when worn. For proper windshield wiper blade length and type, see Maintenance Replacement Parts .
Notice: Allowing the wiper blade arm to touch the windshield when no wiper blade is installed could damage the windshield. Any damage that occurs would not be covered by your warranty. Do not allow the wiper blade arm to touch the windshield.
To replace the wiper blade:
1. Pull the wiper assembly away from the windshield.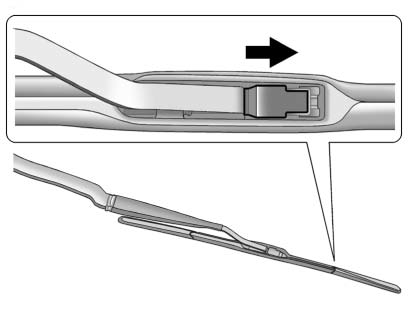 2. Lift up on the latch in the middle of the wiper blade where the wiper arm attaches.
3. With the latch open, pull the wiper blade down toward the windshield far enough to release it from the J-hooked end of the wiper arm.
4. Remove the wiper blade.
5. Reverse Steps 1 through 3 for wiper blade replacement.
See also:
Towing the Vehicle
Notice: To avoid damage, the disabled vehicle should be towed with all four wheels off the ground. Care must be taken with vehicles that have low ground clearance and/or special equipment. Always flat ...
Passenger Sensing System
United States Canada and Mexico The passenger sensing system will turn off the right front passenger frontal airbag under certain conditions. The driver airbag, seat-mounted side impact airbag ...
Underhood Fuse Block
The underhood fuse block is located on the passenger side of the engine compartment. Remove the fuse cover and secondary service cover to access the fuse block. Notice: Spilling liquid on any e ...