Wiper Blade Replacement
Windshield wiper blades should be inspected for wear or cracking. See Scheduled Maintenance for more information.
It is a good idea to clean or replace the wiper blade assembly on a regular basis or when worn. For proper windshield wiper blade length and type, see Maintenance Replacement Parts .
Notice: Allowing the wiper blade arm to touch the windshield when no wiper blade is installed could damage the windshield. Any damage that occurs would not be covered by your warranty. Do not allow the wiper blade arm to touch the windshield.
To replace the wiper blade:
1. Pull the wiper assembly away from the windshield.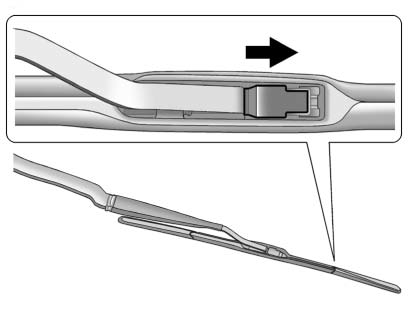 2. Lift up on the latch in the middle of the wiper blade where the wiper arm attaches.
3. With the latch open, pull the wiper blade down toward the windshield far enough to release it from the J-hooked end of the wiper arm.
4. Remove the wiper blade.
5. Reverse Steps 1 through 3 for wiper blade replacement.
See also:
California Fuel Requirements
If the vehicle is certified to meet California Emissions Standards, it is designed to operate on fuels that meet California specifications. See the underhood emission control label. If this fuel i ...
Verano in the Market
The path to entry-luxury success is littered with Infiniti G20s, BMW 318s and Mercedes C230 hatchbacks. But automakers persist. Mercedes will bring the next A-Class here, and Audi has plans for a ...
Roadside Assistance Program
U.S.: 1-800-252-1112 TTY Users: 1-888-889-2438 Canada: 1-800-268-6800 As the owner of a new Buick, you are automatically enrolled in the Roadside Assistance program. This program provides techn ...