Washer Fluid
What to Use
When windshield washer fluid is needed, be sure to read the manufacturer's instructions before use. If operating the vehicle in an area where the temperature may fall below freezing, use a fluid that has sufficient protection against freezing.
Adding Washer Fluid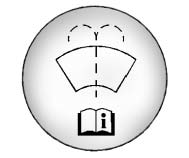 Open the cap with the washer symbol on it. Add washer fluid until the tank is full. See Engine Compartment Overview for reservoir location
Notice . When using concentrated washer fluid, follow the manufacturer's instructions for adding water.
► Do not mix water with ready-to-use washer fluid.
Water can cause the solution to freeze and damage the washer fluid tank and other parts of the washer system.
Also, water does not clean as well as washer fluid.
► Fill the washer fluid tank only three-quarters full when it is very cold. This allows for fluid expansion if freezing occurs, which could damage the tank if it is completely full. ► Do not use engine coolant (antifreeze) in the windshield washer. It can damage the windshield washer system and paint.
See also:
Error Messages
If Disc Read Error displays and/or the disc comes out, it could be for one of the following reasons: The disc has an invalid or unknown format. The disc is not from a correct region. The dis ...
Driving with a Trailer
Towing a trailer requires experience. Get familiar with handling and braking with the added trailer weight. The vehicle is now longer and not as responsive as the vehicle is by itself. Check all ...
CD/DVD Player
The CD/DVD player can play CDs, DVD-As, MP3/WMA CDs, MP3/WMA DVDs, and DVD-Vs. The CD/DVD player will not play 8 cm (3 in) discs. ...