Cooling System
The cooling system allows the engine to maintain the correct working temperature.
When it is safe to lift the hood:
2.0 L L4 Engine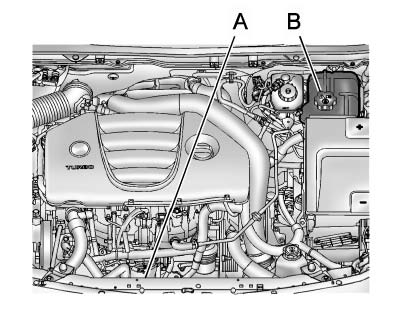 A. Electric Engine Cooling Fans
B. Coolant Surge Tank and Pressure Cap
2.4 L L4 Engine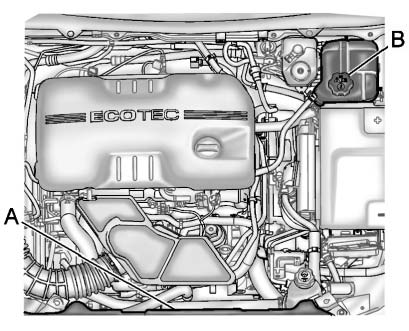 A. Electric Engine Cooling Fans
B. Coolant Surge Tank and Pressure Cap

WARNING
An electric engine cooling fan under the hood can start up even when the engine is not running and can cause injury. Keep hands, clothing, and tools away from any underhood electric fan.

WARNING
Heater and radiator hoses, and other engine parts, can be very hot. Do not touch them. If you do, you can be burned.
Do not run the engine if there is a leak. If you run the engine, it could lose all coolant. That could cause an engine fire, and you could be burned. Get any leak fixed before you drive the vehicle.
Notice: Using coolant other than DEX-COOLВ® can cause premature engine, heater core, or radiator corrosion. In addition, the engine coolant could require changing sooner, at 50 000 km (30,000 mi) or 24 months, whichever occurs first. Any repairs would not be covered by the vehicle warranty.
Always use DEX-COOL (silicate-free) coolant in the vehicle.
See also:
Passenger Safety BeltReminder Light
Several seconds after the key is turned to RUN or START, a chime will sound for several seconds to remind the front passenger to buckle their safety belt. This would only occur if the passenger air ...
When the Change Engine Oil Soon Message Displays
Change engine oil and filter. See Engine Oil. An Emission Control Service. When the Change Engine Oil Soon message displays, service is required for the vehicle as soon as possible, within the ne ...
Engine Oil Pressure Light
WARNING! Do not keep driving if the oil pressure is low. The engine can become so hot that it catches fire. Someone could be burned. Check the oil as soon as possible and have the vehicle se ...