Cooling System
The cooling system allows the engine to maintain the correct working temperature.
When it is safe to lift the hood:
2.0 L L4 Engine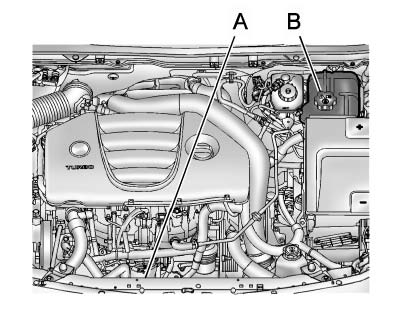 A. Electric Engine Cooling Fans
B. Coolant Surge Tank and Pressure Cap
2.4 L L4 Engine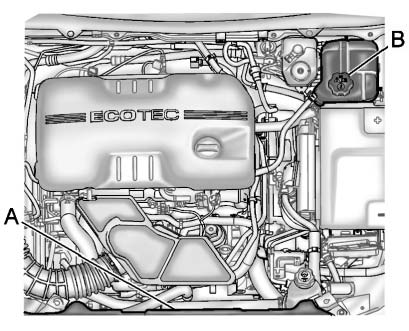 A. Electric Engine Cooling Fans
B. Coolant Surge Tank and Pressure Cap

WARNING
An electric engine cooling fan under the hood can start up even when the engine is not running and can cause injury. Keep hands, clothing, and tools away from any underhood electric fan.

WARNING
Heater and radiator hoses, and other engine parts, can be very hot. Do not touch them. If you do, you can be burned.
Do not run the engine if there is a leak. If you run the engine, it could lose all coolant. That could cause an engine fire, and you could be burned. Get any leak fixed before you drive the vehicle.
Notice: Using coolant other than DEX-COOLВ® can cause premature engine, heater core, or radiator corrosion. In addition, the engine coolant could require changing sooner, at 50 000 km (30,000 mi) or 24 months, whichever occurs first. Any repairs would not be covered by the vehicle warranty.
Always use DEX-COOL (silicate-free) coolant in the vehicle.
See also:
Driving in Rain and on Wet Roads
Rain and wet roads can mean driving trouble. On a wet road, you cannot stop, accelerate, or turn as well because your tire-to-road traction is not as good as on dry roads. And, if your tires do ...
Vehicle Personalization
Some vehicle features can be programmed by using the audio system controls. These features include: ► Climate and Air Quality ► Comfort and Convenience ► Collision/Detection Sys ...
Multi-Band Antenna
The multi-band antenna is on the roof of the vehicle. The antenna is used for the AM-FM radio, OnStar, the XM Satellite Radio Service System, and GPS (Global Positioning System), if the vehicle ha ...