Manual Mode
Driver Shift Control (DSC)
Notice: If you drive the vehicle at a high rpm without upshifting while using Driver Shift Control (DSC), you could damage the vehicle. Always upshift when necessary while using DSC.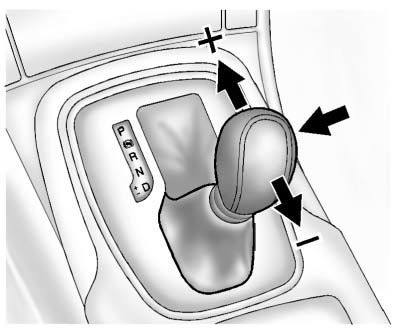 DSC allows you to shift an automatic transmission similar to a manual transmission. To use the DSC feature:
1. Move the shift lever to the left from D (Drive) into the side gate marked with (+) and (−).
2. Press the shift lever forward to upshift or rearward to downshift.
While using the DSC feature, the vehicle will have firmer, quicker shifting. You can use this for sport driving or when climbing or descending hills, to stay in gear longer, or to downshift for more power or engine braking.
The transmission will only allow you to shift into gears appropriate for the vehicle speed and engine revolutions per minute (rpm). The transmission will not automatically shift to the next lower gear if the engine rpm is too high, nor to the next higher gear when the maximum engine rpm is reached.
While in the DSC mode, the transmission will automatically downshift when the vehicle comes to a stop. This will allow for more power during take-off.
When accelerating the vehicle from a stop in snowy and icy conditions, you may want to shift into second gear. A higher gear allows the vehicle to gain more traction on slippery surfaces.
See also:
OIL PRESSURE LOW — STOP ENGINE
This message displays if low oil pressure levels occur. Stop the vehicle as soon as safely possible and do not operate it until the cause of the low oil pressure has been corrected. Check th ...
Checking Things Underthe Hood
CAUTION: Things that burn can get on hot engine parts and start a fire. These include liquids like fuel, oil, coolant, brake fluid, windshield washer and other fluids, and plastic or rubber. Yo ...
Remote Keyless Entry (RKE)System Operation
With this system you can lock and unlock your doors from about 3 feet (1 m) up to 30 feet (9 m) away using the remote keyless entry transmitter supplied with your vehicle. (Unlock): When you p ...