Manual Mode
Driver Shift Control (DSC)
Notice: If you drive the vehicle at a high rpm without upshifting while using Driver Shift Control (DSC), you could damage the vehicle. Always upshift when necessary while using DSC.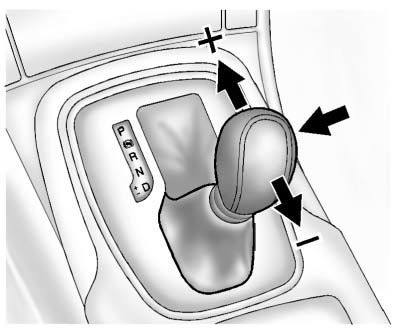 DSC allows you to shift an automatic transmission similar to a manual transmission. To use the DSC feature:
1. Move the shift lever to the left from D (Drive) into the side gate marked with (+) and (−).
2. Press the shift lever forward to upshift or rearward to downshift.
While using the DSC feature, the vehicle will have firmer, quicker shifting. You can use this for sport driving or when climbing or descending hills, to stay in gear longer, or to downshift for more power or engine braking.
The transmission will only allow you to shift into gears appropriate for the vehicle speed and engine revolutions per minute (rpm). The transmission will not automatically shift to the next lower gear if the engine rpm is too high, nor to the next higher gear when the maximum engine rpm is reached.
While in the DSC mode, the transmission will automatically downshift when the vehicle comes to a stop. This will allow for more power during take-off.
When accelerating the vehicle from a stop in snowy and icy conditions, you may want to shift into second gear. A higher gear allows the vehicle to gain more traction on slippery surfaces.
See also:
Service Bulletins
Service Bulletins give additional technical service information needed to knowledgeably service General Motors cars and trucks. Each bulletin contains instructions to assist in the diagnosis ...
Programming Universal Home Remote — Fixed Code
For questions or help programming the Universal Home Remote System, call 1-866-572-2728 or go to learcar2u.com. Most garage door openers sold before 1996 are Fixed Code units. Programming a ga ...
Heated Front Seats
WARNING If you cannot feel temperature change or pain to the skin, the seat heater may cause burns even at low temperatures. To reduce the risk of burns, people with such a condition should use ca ...