Cruise Control
The cruise control lets the vehicle maintain a speed of about 40 km/h (25 mph) or more without keeping your foot on the accelerator. Cruise control does not work at speeds below 40 km/h (25 mph).
The vehicle has a Traction Control System (TCS) or StabiliTrak system that begins to limit wheel spin while using cruise control and the cruise control will automatically disengage. See Traction Control System (TCS) or StabiliTrakВ® System . When road conditions allow you to safely use it again, the cruise control can be turned back on.

WARNING
Cruise control can be dangerous where you cannot drive safely at a steady speed. So, do not use the cruise control on winding roads or in heavy traffic.
Cruise control can be dangerous on slippery roads. On such roads, fast changes in tire traction can cause excessive wheel slip, and you could lose control. Do not use cruise control on slippery roads.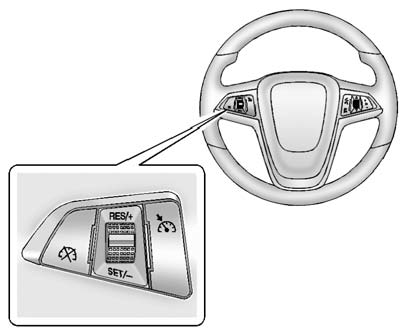 (On/Off): Press to turn the cruise control system on and off. An indicator light will turn on or off in the instrument cluster.

(Cancel): Press to disengage cruise control without erasing the set speed from memory.
RES/+ (Resume/Accel): Move the thumbwheel up to resume to a previously set speed or to accelerate.
SET/− (Set/Coast): Move the thumbwheel down to set a speed and activate cruise control or to make the vehicle decelerate.
See also:
Battery Voltage
This display, available on some vehicles, shows the current battery voltage. If the voltage is in the normal range, the value will display. For example, the display may read Battery Voltage 1 ...
Battery Replacement
To change the batteries on the headphones: 1. Turn the screw to loosen the battery door located on the left side of the headphones. Slide the battery door open. 2. Replace the two batteries in th ...
Recommended Fluids and Lubricants
Usage Fluid/Lubrican Engine Oil The engine requires engine oil approved to the dexos specification. Oils meeting this specification can be identified with the dexos cer ...