Hood Release
To open the hood: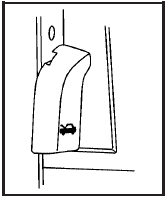 1. Pull the hood release handle inside the vehicle. It is located next to the parking brake pedal near the floor.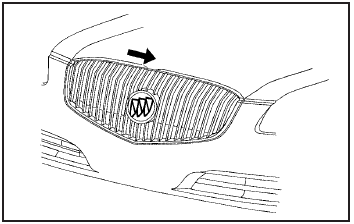 2. Then go to the front of the vehicle and pull the secondary hood release to the right. The hood latch is located under the hood, near the center, at the front edge of the grille.
3. Hold the latch to the right as you lift up on the hood.
Before closing the hood, be sure all the filler caps are on properly. Then just pull the hood down and close it firmly.
See also:
Warning Lights, Gages, andIndicators
This part describes the warning lights and gages that may be on your vehicle. The pictures will help you locate them. Warning lights and gages can signal that something is wrong before it become ...
Emergency
With Automatic Crash Response, the built-in system can automatically connect to help in a crash even if you cannot ask for it. Push to connect to an Emergency Advisor. GPS technology is us ...
Trailer Brakes
Does the trailer have its own brakes? Be sure to read and follow the instructions for the trailer brakes so they are installed, adjusted, and maintained properly. Because the vehicle has antilock ...