Service
For service and parts needs, visit your dealer/retailer.
You will receive genuine GM parts and GM-trained and supported service people.
Genuine GM parts have one of these marks: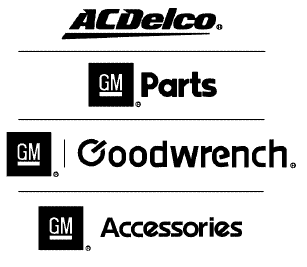 See also:
Warning Lights, Gauges, and Indicators
Warning lights and gauges can signal that something is wrong before it becomes serious enough to cause an expensive repair or replacement. Paying attention to the warning lights and gauges could p ...
Brake Pedal Travel
See your dealer if the brake pedal does not return to normal height, or if there is a rapid increase in pedal travel. This could be a sign that brake service might be required. ...
Reprogramming a Single Universal Remote System Button
To reprogram any of the three Universal Remote system buttons: 1. Press and hold the desired Universal Remote system button. Do not release the button. 2. The indicator light will begin to ...