Dolly Towing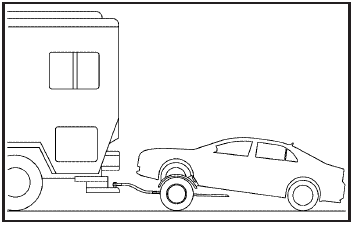 The vehicle can be towed using a dolly. To tow the vehicle using a dolly, follow these steps:
1. Put the front wheels on a dolly.
2. Put the gear shift lever in P (Park).
3. Set the parking brake.
4. Clamp the steering wheel in a straight-ahead position with a clamping device designed for towing.
5. Remove the key from the ignition.
6. Secure the vehicle to the dolly.
7. Release the parking brake.
See also:
Braking in Emergencies
ABS allows the driver to steer and brake at the same time. In many emergencies, steering can help more than even the very best braking. ...
Collision Parts
Genuine GM Collision parts are new parts made with the same materials and construction methods as the parts with which the vehicle was originally built. Genuine GM Collision parts are the best cho ...
Modest Power, at Best
The 2.4-liter four-cylinder generates 182 horsepower, versus the 3.0-liter's 255 hp (252 hp with all-wheel drive) and the 3.6-liter's 280 hp. The CX comes only with front-wheel drive and either th ...