Cruise Control Light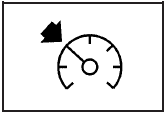 The cruise control light comes on whenever the cruise control is set.
The light goes out when the cruise control is turned off.
See Cruise Control for more information.
See also:
Using Voice Recognition
For vehicles equipped with the MyLink or IntelliLink infotainment system, see the separate MyLink/ IntelliLink Features and Functions Guide for more information. To use voice recognition, press the ...
When the Light Is On Steady
This indicates that one or more of the tires are significantly underinflated. A Driver Information Center (DIC) tire pressure message may also display. See Vehicle Messages for more informati ...
Empty Directory or Folder
If a root directory or a folder exists somewhere in the file structure that contains only folders/subfolders and no compressed files directly beneath them, the player advances to the next folder ...