Cruise Control Light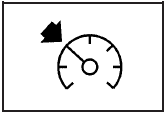 The cruise control light comes on whenever the cruise control is set.
The light goes out when the cruise control is turned off.
See Cruise Control for more information.
See also:
Securing an Add-On Child Restraint in the Vehicle
WARNING: A child can be seriously injured or killed in a crash if the child restraint is not properly secured in the vehicle. Secure the child restraint properly in the vehicle using the vehicl ...
Adding Equipment to the Airbag-Equipped Vehicle
Q: Is there anything I might add to or change about the vehicle that could keep the airbags from working properly? A: Yes. If you add things that change the vehicle's frame, bumper system, height, fr ...
Variable Effort Steering
Some vehicles have a steering system that varies the amount of effort required to steer the vehicle in relation to the speed of the vehicle. The amount of steering effort required is less at ...