Security Light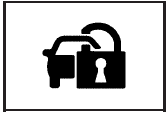 For information regarding this light and the vehicle's security system, see Content Theft-Deterrent.
See also:
Perimeter Lights
Press the customization button until PERIMETER LIGHTS: ON appears in the display. To select your preference for perimeter lighting, press the select button while PERIMETER LIGHTS: ON is displaye ...
Glove Box
Lift the glove box handle up to open it. Use the key to lock and unlock the glove box. ...
Parking Over Things That Burn
CAUTION: Things that can burn could touch hot exhaust parts under your vehicle and ignite. Do not park over papers, leaves, dry grass, or other things that can burn. ...