Security Light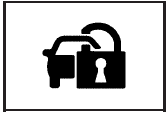 For information regarding this light and the vehicle's security system, see Content Theft-Deterrent.
See also:
Dual Tone Multi-Frequency (DTMF) Tones
The in-vehicle Bluetooth system can send numbers during a call. This is used when calling a menu-driven phone system. For Radio with CD: 1. Turn or press the TUNE/MENU knob and select Enter Number ...
When the Light Is On Steady
This indicates that one or more of the tires are significantly underinflated. A Driver Information Center (DIC) tire pressure message may also display. See Vehicle Messages for more informati ...
Ignition Positions
The ignition switch has four different positions. Notice: Using a tool to force the key to turn in the ignition could cause damage to the switch or break the key. Use the correct key, make sure it ...