How the System Works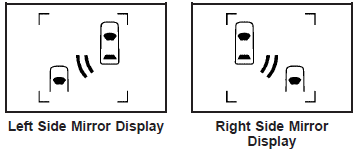 When the vehicle is started, both outside mirror displays will briefly come on to indicate that the system is operating. While driving forward, the left or right side mirror SBZA display will light up if a vehicle is detected in that blind zone. If you activate a turn signal and a vehicle has been detected on the same side, the SBZA display will flash to give you extra warning not to change lanes.
SBZA displays do not come on while the vehicle is approaching or passing other vehicles. At speeds greater then 20 mph (32 km/h), SBZA displays may come on when a vehicle you have passed remains in or drops back into the detection zone.
SBZA can be disabled through the Driver Information Center (DIC). See Driver Information Center (DIC) for more information. If the SBZA is disabled by the driver, the SBZA mirror displays will not light up during normal driving.
See also:
Pulling a Trailer
Here are some important points: . There are many laws, including speed limit restrictions that apply to trailering. Check for legal requirements with state or provincial police. . Do not t ...
Engine Oil Additives/Engine Oil Flushes
Do not add anything to the oil. The recommended oils with the dexos specification and displaying the dexos certification mark are all that is needed for good performance and engine protectio ...
Child Restraint Systems
A rear-facing infant seat (A) provides restraint with the seating surface against the back of the infant. The harness system holds the infant in place and, in a crash, acts to keep the in ...