SBZA Detection Zones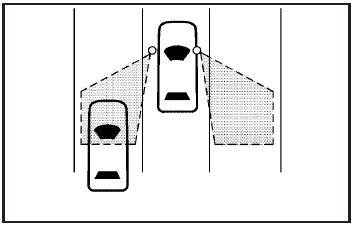 The SBZA sensor covers a zone of approximately one lane over from both sides of the vehicle, 3.5 m (11 ft).
This zone starts at each side mirror and goes back approximately 5 m (16 ft). The height of the zone is approximately between 0.5 m (1.5 ft) and 2.0 m (6 ft) off the ground.
The SBZA detection zones do not change if the vehicle is towing a trailer. So be extra careful when changing lanes while towing a trailer.
See also:
Tow/Haul Mode Light
This light comes on when the Tow/Haul mode has been activated. For more information, see Tow/Haul Mode . ...
eAssist Automatic Engine Start/Stop
WARNING! Exiting the vehicle, without first shifting into P (Park), may cause the vehicle to move, you or others may be injured. Because the vehicle has the automatic engine start/stop feat ...
Windows
WARNING Leaving children, helpless adults, or pets in a vehicle with the windows closed is dangerous. They can be overcome by the extreme heat and suffer permanent injuries or even death from hea ...