Outside Power Mirrors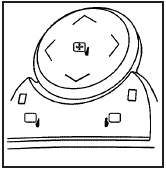 Controls for the outside power mirrors are located on the driver's door armrest.
To adjust the mirror:
1. Press the left or right side of the selector switch located beneath the control pad to choose the driver or passenger side mirror.
2. Press one of the four arrows located on the control pad to move the mirror in the desired direction.
3. Adjust each outside mirror so that a little of the vehicle and the area behind it can be seen.
Manually fold the mirrors inward to prevent damage when going through an automatic car wash. To fold, push the mirror toward the vehicle. Push the mirror outward, to return to its original position.
See also:
Express Window Operation
Windows with an express-up or down feature allow the front windows to be lowered or raised without holding the switch. Rear windows only have express-down. Pull a window switch up or push it ...
Weight of the Trailer
How heavy can a trailer safely be? It should never weigh more than 454 kg (1,000 lbs). But even that can be too heavy. It depends on how the rig is used. For example, speed, altitude, road grades, ...
The Inside
Like the pricier CTS sedan from sister brand Cadillac, the LaCrosse's dashboard is trimmed in a leather-like material with stitched seams and padded finishes. Ambient lighting pipes across the das ...