Exterior Mirrors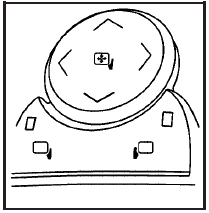 Controls for the outside power mirrors are located on the driver door armrest.
1. Press the left or right side of the selector switch located beneath the control pad to choose the driver or passenger side mirror.
2. Press one of the four arrows located on the control pad to move the mirror in the desired direction.
Manually fold the mirrors inward to prevent damage when going through an automatic car wash. To fold, push the mirror toward the vehicle. Push the mirror outward, to return to its original position.
See also:
Manual Operation
(Power): Press to turn the fan off or on. (Fan Control): Press to increase or decrease the fan speed. The fan speed setting appears on the main display. Pressing either button cancels au ...
Ignition Positions (Keyless Access)
Ignition Positions (Keyless Access) The vehicle has an electronic keyless ignition with pushbutton start. Pressing the button cycles it through three modes, ACC/ACCESSORY, ON/RUN/START, an ...
Scheduled Maintenance
When the CHANGE ENGINE OIL DIC message comes on, it means that service is required for your vehicle. Have your vehicle serviced as soon as possible within the next 600 miles (1 000 km). It is poss ...