Checking the Fluid Level
Prepare your vehicle as follows:
1. Park your vehicle on a level place. Keep the engine running.
2. With the parking brake applied, place the shift lever in PARK (P).
3. With your foot on the brake pedal, move the shift lever through each gear range, pausing for about three seconds in each range.
Then, position the shift lever in PARK (P).
4. Let the engine run at idle for three minutes or more.
Then, without shutting off the engine, follow these steps:
1. Flip the handle up and then remove the dipstick and wipe it with a clean rag or paper towel.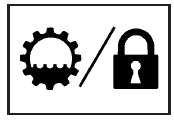 The automatic transmission dipstick handle with this symbol on it is located in the engine compartment on the passenger's side of the vehicle.
2. Reinstall it back in all the way, wait three seconds and then pull it back out again. If the dipstick does not go down the tube easily, turn the blade and try again until it is fully inserted in the tube.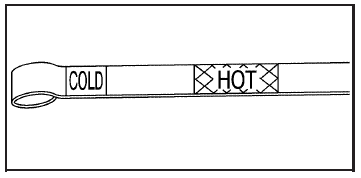 3. Check both sides of the dipstick, and read the lower level. The fluid level must be in the COLD area, below the cross-hatched area, for a cold check or in the HOT or cross-hatched area for a hot check. Be sure to keep the dipstick pointed down to get an accurate reading.
4. If the fluid level is in the acceptable range, reinstall the dipstick back in all the way; then flip the handle down to lock the dipstick in place.
See also:
Headlamp Aiming
The vehicle has a visual optical headlamp aiming system. The aim of the headlamps have been preset at the factory and should need no further adjustment. However, if the vehicle is damaged in a cr ...
Turn and Lane-Change Signals
Move the lever all the way up or down to signal a turn. An arrow on the instrument panel cluster flashes in the direction of the turn or lane change. Raise or lower the lever until the arrow sta ...
How to Wear Safety Belts Properly
This section is only for people of adult size. There are special things to know about safety belts and children. And there are different rules for smaller children and infants. If a child wil ...