Gate Ajar Light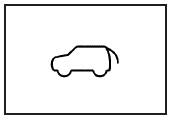 If this light comes on, the liftgate or liftglass is not completely shut.
Close the liftgate or liftglass. Never drive with the liftgate or liftglass even partially open.
See also:
Matching Transmitter(s) toYour Vehicle
Each remote keyless entry transmitter is coded to prevent another transmitter from unlocking your vehicle. If a transmitter is lost or stolen, a replacement can be purchased through your dealer. R ...
Fuels in Foreign Countries
Never use leaded gasoline or any other fuel not recommended in the previous text on fuel. Costly repairs caused by use of improper fuel would not be covered by the vehicle warranty. To chec ...
Environmental Concerns
Off-road driving can provide wholesome and satisfying recreation. However, it also raises environmental concerns. We recognize these concerns and urge every off-roader to follow these basic rules ...