Removal and Installation of the Sealant Canister
To remove the sealant canister: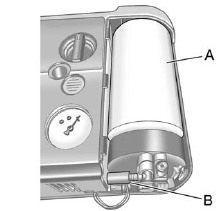 1. Remove the plastic cover.
2. Unscrew the connector (B) from the canister (A).
3. Pull up on the canister (A) to remove it.
4. Replace with a new canister which is available from your dealer.
5. Push the new canister into place.
6. Screw the connector (B) to the canister (A).
7. Slide the plastic cover back on.
See also:
Bluetooth (Overview)
For vehicles equipped with the MyLink or IntelliLink infotainment system, see the separate MyLink/IntelliLink Features and Functions Guide for more information. For vehicles equipped with Blu ...
Tire Terminology and Definitions
Air Pressure: The amount of air inside the tire pressing outward on each square inch of the tire. Air pressure is expressed in pounds per square inch (psi) or kilopascal (kPa). Accessory Weight: ...
Keyless Unlocking
With the RKE transmitter within 1m(3 ft), approach the door and pull the handle to unlock and open the door. If the transmitter is recognized, the door will unlock and open. Entering any door oth ...