Reduced Engine Power Light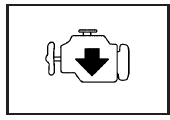 This light comes on when a noticeable reduction in the vehicle's performance occurs.
The vehicle can be driven at a reduced speed when the reduced engine power light is on, but acceleration and speed may be reduced.
The performance may be reduced until the next time you drive your vehicle. If this light stays on, see your dealer as soon as possible for diagnosis and repair.
This light may also come on if there is a problem with the Electronic Throttle Control (ETC) system. If this happens, take the vehicle in for service as soon as possible.
See also:
OnStar Additional Information
Transferring Service Push to request account transfer eligibility information. The Advisor can assist in canceling or removing account information. If OnStar receives information that vehicle ow ...
Automatic Headlamp System
When it is dark enough outside and the exterior lamps control is in the automatic position, the headlamps come on automatically. See Exterior Lamp Controls . The vehicle has a light sensor locate ...
Average Fuel Economy/Instantaneous Fuel Economy
On some models, this display shows Average Fuel Economy. On other models, this display shows both Average Fuel Economy and Instantaneous Fuel Economy. The Average Fuel Economy display shows ...