Reduced Engine Power Light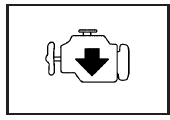 This light comes on when a noticeable reduction in the vehicle's performance occurs.
The vehicle can be driven at a reduced speed when the reduced engine power light is on, but acceleration and speed may be reduced.
The performance may be reduced until the next time you drive your vehicle. If this light stays on, see your dealer as soon as possible for diagnosis and repair.
This light may also come on if there is a problem with the Electronic Throttle Control (ETC) system. If this happens, take the vehicle in for service as soon as possible.
See also:
Side Blind Zone Alert (SBZA)
For vehicles with this feature, it may alert you to vehicles located in your side blind zone. When the system detects a vehicle in the side blind zone, an SBZA display will light up in the corre ...
Hitches
Use the correct hitch equipment. See your dealer or a hitch dealer for assistance. . The rear bumper on the vehicle is not intended for hitches. Do not attach rental hitches or other bumper-type hi ...
Buying New Tires
GM has developed and matched specific tires for the vehicle. The original equipment tires installed were designed to meet General Motors Tire Performance Criteria Specification (TPC Spec) ...