Reduced Engine Power Light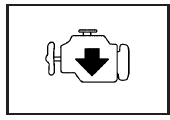 This light comes on when a noticeable reduction in the vehicle's performance occurs.
The vehicle can be driven at a reduced speed when the reduced engine power light is on, but acceleration and speed may be reduced.
The performance may be reduced until the next time you drive your vehicle. If this light stays on, see your dealer as soon as possible for diagnosis and repair.
This light may also come on if there is a problem with the Electronic Throttle Control (ETC) system. If this happens, take the vehicle in for service as soon as possible.
See also:
Replacing Brake System Parts
The braking system on a vehicle is complex. Its many parts have to be of top quality and work well together if the vehicle is to have really good braking. The vehicle was designed and tested with ...
If Your Vehicle is Stuck in Sand, Mud, Ice, or Snow
Slowly and cautiously spin the wheels to free the vehicle when stuck in sand, mud, ice, or snow. See Rocking Your Vehicle to Get It Out. If the vehicle has a traction system, it can often help to ...
Conference Calling
Conference calling and three-way calling must be supported on the Bluetooth phone and enabled by the wireless service carrier to work. To start a conference while in a current call: 1. Turn or pre ...