Reduced Engine Power Light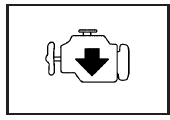 This light comes on when a noticeable reduction in the vehicle's performance occurs.
The vehicle can be driven at a reduced speed when the reduced engine power light is on, but acceleration and speed may be reduced.
The performance may be reduced until the next time you drive your vehicle. If this light stays on, see your dealer as soon as possible for diagnosis and repair.
This light may also come on if there is a problem with the Electronic Throttle Control (ETC) system. If this happens, take the vehicle in for service as soon as possible.
See also:
Under the Hood
A 291-hp, 4.2-liter inline-six-cylinder is standard, and a 300-hp, 5.3-liter V-8 is optional. A four-speed automatic is the sole transmission. ...
Engine Oil Pressure Light
WARNING Do not keep driving if the oil pressure is low. The engine can become so hot that it catches fire. Someone could be burned. Check the oil as soon as possible and have the vehicle servic ...
Object Detection System Messages
PARK ASSIST OFF This message is displayed when the park assist system has been turned off. See Ultrasonic Parking Assist . SERVICE PARK ASSIST This message is displayed if there is a problem with ...