Reduced Engine Power Light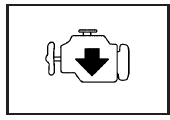 This light comes on when a noticeable reduction in the vehicle's performance occurs.
The vehicle can be driven at a reduced speed when the reduced engine power light is on, but acceleration and speed may be reduced.
The performance may be reduced until the next time you drive your vehicle. If this light stays on, see your dealer as soon as possible for diagnosis and repair.
This light may also come on if there is a problem with the Electronic Throttle Control (ETC) system. If this happens, take the vehicle in for service as soon as possible.
See also:
Steering Wheel Adjustment
The lever is located on the left side of the steering column. To adjust the lever: 1. Hold the wheel and pull the lever toward you. 2. Move the steering wheel up or down into a comfortable ...
Second Row Seats
The second row seat can be folded to access the third row. Pull the sliding seat lever forward; the seat cushion folds, and the seat slides forward. See Rear Seats . ...
Compressed Audio or Mixed Mode Discs
The radio can play discs that contain both uncompressed CD audio and MP3/WMA files. If both formats are on the disc, the radio plays both file formats in the order in which they were recorded to t ...