Reduced Engine Power Light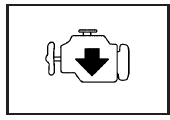 This light comes on when a noticeable reduction in the vehicle's performance occurs.
The vehicle can be driven at a reduced speed when the reduced engine power light is on, but acceleration and speed may be reduced.
The performance may be reduced until the next time you drive your vehicle. If this light stays on, see your dealer as soon as possible for diagnosis and repair.
This light may also come on if there is a problem with the Electronic Throttle Control (ETC) system. If this happens, take the vehicle in for service as soon as possible.
See also:
Keyless Trunk Opening
Lift up on the touch pad located above the license plate to open the trunk if the RKE transmitter is within range. ...
Navigation System
If the vehicle has a navigation system, there is a separate navigation system manual that includes information on the radio, audio players, and navigation system. The navigation system prov ...
Warranty
OnStar equipment may be warranted as part of the new-vehicle limited warranty. The manufacturer of the vehicle furnishes detailed warranty information. ...