Oil Pressure Gage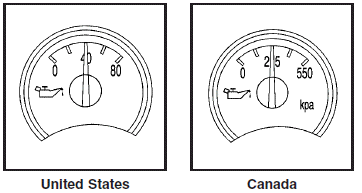 The oil pressure gage shows the engine oil pressure in psi (pounds per square inch) when the engine is running. Canadian vehicles indicate pressure in kPa (kilopascals).
Oil pressure may vary with engine speed, outside temperature and oil viscosity, but readings above the low pressure zone indicate the normal operating range.
A reading in the low pressure zone may be caused by a dangerously low oil level or other problems causing low oil pressure.
CAUTION:
Do not keep driving if the oil pressure is low. If you do, your engine can become so hot that it catches fire. You or others could be burned. Check your oil as soon as possible and have your vehicle serviced.
Notice: Lack of proper engine oil maintenance may damage the engine. The repairs would not be covered by your warranty. Always follow the maintenance schedule in this manual for changing engine oil.
See also:
All-Wheel Drive
Vehicles with this feature always send engine power to all four wheels. It is fully automatic, and adjusts itself as needed for road conditions. When using a compact spare tire on an AWD ve ...
Elegant yet functional on the inside
Comfort and elegance meet versatility and convenience within Terraza's sumptuous interior. Chrome and wood trim accents lend a premium appearance throughout, complementing the precision fit and fl ...
Radio Frequency Statement
This vehicle has systems that operate on a radio frequency that comply with Part 15 of the Federal Communications Commission (FCC) Rules and with RSS-210/211 of Industry and Science Canada. Ope ...