Overview (Radio with CD)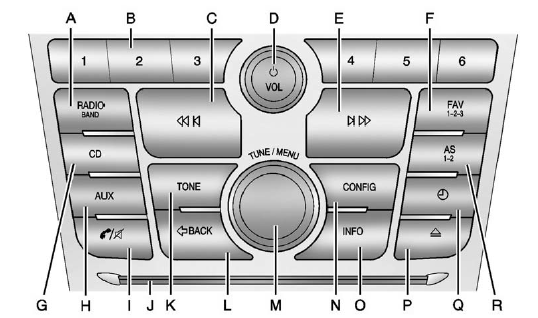 Overview (Radio with CD)
A. RADIO/BAND
Changes the band while listening to the radio.
Selects the radio when listening to a different audio source.
B. Buttons 1−6
Radio: Saves and selects favorite stations.
C.

(Previous/Reverse)
Radio: Seeks the previous station.
CD: Selects the previous track or rewinds within a track.
D.

(Power/Volume)
Turns the system on or off and adjusts the volume.
E.

(Next/Forward)
Radio: Seeks the next station.
CD: Selects the next track or fast forwards within a track.
F. FAV 1-2-3 (Favorites Page)
Radio: Opens the favorites list.
G. CD
H. AUX (Auxiliary)
Selects an external audio source.
I.

(Phone/Mute)
Opens the phone main menu.
Mutes the audio system.
J. CD Slot
K. TONE
L. / BACK
Menu: Moves one level back.
Character Input: Deletes the last character.
M. TUNE/MENU
Turn to open menus, highlight menu items, or set numeric values while in a menu.
Press to select menu items.
Radio: Manually selects radio stations.
CD: Selects tracks.
N. CONFIG (Configuration)
O. INFO (Information)
Radio: Shows available information about the current station.
CD: Shows available information about the current track.
P.
(Eject)
Removes a disc from the CD slot.
Q.

(Clock)
R. AS 1-2 (Autostore)
Radio: Opens the auto store stations list.
See also:
Special Application Services
Severe Commercial Use Vehicles Only: Lubricate chassis components every 5 000 km/3,000 mi. Have underbody flushing service performed once a year. ...
Heated Seats
Your vehicle may have heated front seats. To operate the heated seats, the ignition must be on. Driver's Side Buttons shown The buttons are located on the front doors. (Heated Seat Cushion ...
Rear Seat Driver Side Shown, Passenger Side Similar
On vehicles with second row seat-mounted side impact airbags, they are in the sides of the rear seatback closest to the door. WARNING If something is between an occupant and an airbag, the air ...