Overview (Radio with CD)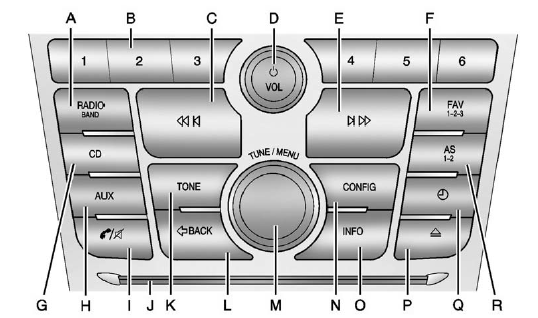 Overview (Radio with CD)
A. RADIO/BAND
Changes the band while listening to the radio.
Selects the radio when listening to a different audio source.
B. Buttons 1−6
Radio: Saves and selects favorite stations.
C.

(Previous/Reverse)
Radio: Seeks the previous station.
CD: Selects the previous track or rewinds within a track.
D.

(Power/Volume)
Turns the system on or off and adjusts the volume.
E.

(Next/Forward)
Radio: Seeks the next station.
CD: Selects the next track or fast forwards within a track.
F. FAV 1-2-3 (Favorites Page)
Radio: Opens the favorites list.
G. CD
H. AUX (Auxiliary)
Selects an external audio source.
I.

(Phone/Mute)
Opens the phone main menu.
Mutes the audio system.
J. CD Slot
K. TONE
L. / BACK
Menu: Moves one level back.
Character Input: Deletes the last character.
M. TUNE/MENU
Turn to open menus, highlight menu items, or set numeric values while in a menu.
Press to select menu items.
Radio: Manually selects radio stations.
CD: Selects tracks.
N. CONFIG (Configuration)
O. INFO (Information)
Radio: Shows available information about the current station.
CD: Shows available information about the current track.
P.
(Eject)
Removes a disc from the CD slot.
Q.

(Clock)
R. AS 1-2 (Autostore)
Radio: Opens the auto store stations list.
See also:
Driving experience
The chassis and structural systems were developed in Germany and give the Buick Regal the handling and dynamics of a premium European sport sedan, as well as the quiet, refined ride and road manne ...
General Information
Vehicles with a Universal Handsfree Phone (UHP) system can use a BluetoothВ® capable mobile phone with a Hands-Free Profile to make and receive phone calls. The infotainment system and voice ...
Customer Assistance Offices (Mexico)
To contact the Customer Assistance Center (CAC), use the phone numbers listed in this section. Customer assistance is available Monday through Friday, 08:00 to 20:00 hours, and Saturdays from ...