Overview (Radio with CD)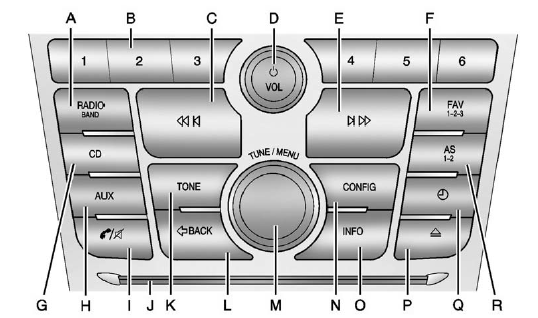 Overview (Radio with CD)
A. RADIO/BAND
Changes the band while listening to the radio.
Selects the radio when listening to a different audio source.
B. Buttons 1−6
Radio: Saves and selects favorite stations.
C.

(Previous/Reverse)
Radio: Seeks the previous station.
CD: Selects the previous track or rewinds within a track.
D.

(Power/Volume)
Turns the system on or off and adjusts the volume.
E.

(Next/Forward)
Radio: Seeks the next station.
CD: Selects the next track or fast forwards within a track.
F. FAV 1-2-3 (Favorites Page)
Radio: Opens the favorites list.
G. CD
H. AUX (Auxiliary)
Selects an external audio source.
I.

(Phone/Mute)
Opens the phone main menu.
Mutes the audio system.
J. CD Slot
K. TONE
L. / BACK
Menu: Moves one level back.
Character Input: Deletes the last character.
M. TUNE/MENU
Turn to open menus, highlight menu items, or set numeric values while in a menu.
Press to select menu items.
Radio: Manually selects radio stations.
CD: Selects tracks.
N. CONFIG (Configuration)
O. INFO (Information)
Radio: Shows available information about the current station.
CD: Shows available information about the current track.
P.
(Eject)
Removes a disc from the CD slot.
Q.

(Clock)
R. AS 1-2 (Autostore)
Radio: Opens the auto store stations list.
See also:
Recreational Vehicle Towing
Recreational vehicle towing means towing the vehicle behind another vehicle – such as behind a motor home. The two most common types of recreational vehicle towing are known as dinghy towing and ...
Wiper Blade Replacement
Windshield wiper blades should be inspected for wear or cracking. See Scheduled Maintenance for more information. It is a good idea to clean or replace the wiper blade assembly on a regular bas ...
Engine Cooling System Messages
ENGINE HOT A/C (Air Conditioning) OFF This message displays when the engine coolant becomes hotter than the normal operating temperature. See Engine Coolant Temperature Gauge . To avoid added stra ...