Overview (Radio with CD)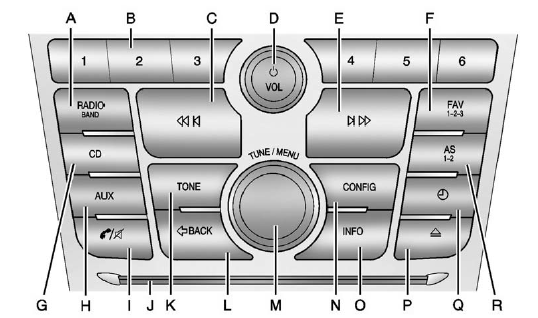 Overview (Radio with CD)
A. RADIO/BAND
Changes the band while listening to the radio.
Selects the radio when listening to a different audio source.
B. Buttons 1−6
Radio: Saves and selects favorite stations.
C.

(Previous/Reverse)
Radio: Seeks the previous station.
CD: Selects the previous track or rewinds within a track.
D.

(Power/Volume)
Turns the system on or off and adjusts the volume.
E.

(Next/Forward)
Radio: Seeks the next station.
CD: Selects the next track or fast forwards within a track.
F. FAV 1-2-3 (Favorites Page)
Radio: Opens the favorites list.
G. CD
H. AUX (Auxiliary)
Selects an external audio source.
I.

(Phone/Mute)
Opens the phone main menu.
Mutes the audio system.
J. CD Slot
K. TONE
L. / BACK
Menu: Moves one level back.
Character Input: Deletes the last character.
M. TUNE/MENU
Turn to open menus, highlight menu items, or set numeric values while in a menu.
Press to select menu items.
Radio: Manually selects radio stations.
CD: Selects tracks.
N. CONFIG (Configuration)
O. INFO (Information)
Radio: Shows available information about the current station.
CD: Shows available information about the current track.
P.
(Eject)
Removes a disc from the CD slot.
Q.

(Clock)
R. AS 1-2 (Autostore)
Radio: Opens the auto store stations list.
See also:
Pairing
A Bluetooth-enabled cell phone must be paired to the Bluetooth system and then connected to the vehicle before it can be used. See your cell phone manufacturer's user guide for Bluetooth fun ...
Using the Tire Sealant and Compressor Kit to Temporarily Seal and Inflate a Punctured Tire
Follow the directions closely for correct sealant usage. When using the tire sealant and compressor kit during cold temperatures, warm the kit in a heated environment for five minutes. Thi ...
Brakes
This vehicle has disc brakes. Disc brake pads have built-in wear indicators that make a high-pitched warning sound when the brake pads are worn and new pads are needed. The sound can come and go or b ...