Charging System Light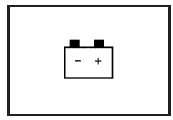 The charging system light will come on briefly when you turn on the ignition, but the engine is not running, as a check to show you it is working.
It should go out once the engine is running. If it stays on, or comes on while you are driving, you may have a problem with the charging system.
It could indicate that you have problems with a generator drive belt, or another electrical problem.
Have it checked right away. Driving while this light is on could drain your battery.
If you must drive a short distance with the light on, be certain to turn off all your accessories, such as the radio and air conditioner.
See also:
California Perchlorate Materials Requirements
Certain types of automotive applications, such as airbag initiators, seat belt pretensioners, and lithium batteries contained in Remote Keyless Entry transmitters, may contain perchlorate materials. ...
Storage Compartments
For vehicles with a second row center console, press the buttons (B) or (C) to access storage areas. Lift up on (A) for additional storage area. See Floor Console Storage . ...
LOW BATTERY
This message is displayed when the battery voltage is low. See Battery for more information. ...