Brake System Warning Light
The vehicle brake system consists of two hydraulic circuits. If one circuit is not working, the remaining circuit can still work to stop the vehicle. For normal braking performance, both circuits need to be working.
If the warning light comes on, there is a brake problem. Have the brake system inspected right away.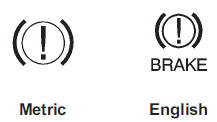 The brake indicator light should come on briefly as the engine is started. If it does not come on have the vehicle serviced by your dealer.

WARNING
The brake system might not be working properly if the brake system warning light is on. Driving with the brake system warning light on can lead to a crash. If the light is still on after the vehicle has been pulled off the road and carefully stopped, have the vehicle towed for service.
If the light comes on while driving, a chime sounds. Pull off the road and stop. The pedal might be harder to push or go closer to the floor. It might also take longer to stop. If the light is still on, have the vehicle towed for service. See Towing the Vehicle .
See also:
When Should an Airbag Inflate?
Frontal airbags are designed to inflate in moderate to severe frontal or near frontal crashes to help reduce the potential for severe injuries mainly to the driver's or right front passenger's head an ...
When to Check
Check the tires once a month or more. Do not forget the compact spare tire, if the vehicle has one. The cold compact spare should be at 420 kPa (60 psi). For additional information regarding the c ...
Using this Manual
To quickly locate information about the vehicle, use the Index in the back of the manual. It is an alphabetical list of what is in the manual and the page number where it can be found. ...