Brake System Warning Light
The vehicle brake system consists of two hydraulic circuits. If one circuit is not working, the remaining circuit can still work to stop the vehicle. For normal braking performance, both circuits need to be working.
If the warning light comes on, there is a brake problem. Have the brake system inspected right away.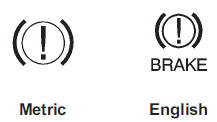 The brake indicator light should come on briefly as the engine is started. If it does not come on have the vehicle serviced by your dealer.

WARNING
The brake system might not be working properly if the brake system warning light is on. Driving with the brake system warning light on can lead to a crash. If the light is still on after the vehicle has been pulled off the road and carefully stopped, have the vehicle towed for service.
If the light comes on while driving, a chime sounds. Pull off the road and stop. The pedal might be harder to push or go closer to the floor. It might also take longer to stop. If the light is still on, have the vehicle towed for service. See Towing the Vehicle .
See also:
Compass Variance
Compass variance is the difference between earth's magnetic north and true geographic north. The mirror is set to zone eight upon leaving the factory. It will be necessary to adjust the compass ...
OnStar Steering Wheel Controls
This vehicle may have a Talk/Mute button that can be used to interact with OnStar hands-free calling. See Audio Steering Wheel Controls for more information. On some vehicles, the mute button c ...
Body Component Lubrication
Lubricate all key lock cylinders, hood hinges, liftgate hinges, trunk hinges and steel fuel door hinge unless the components are plastic. Applying silicone grease on weatherstrips with a clean clo ...