Cruise Control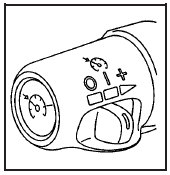 Your vehicle has cruise control. The controls are located on the end of the turn signal/ multifunction lever.

(On): Move the switch to this position to turn the cruise control system on.

(Resume/Accelerate): Move the switch to this position to resume a set speed or to accelerate.

(Set): Press this button, located at the end of the lever, to set a speed.

(Off): Move the switch to this position to turn the cruise control system off and cancel memory of a set speed.
With cruise control, you can maintain a speed of about 25 mph (40 km/h) or more without keeping your foot on the accelerator. This can really help on long trips. Cruise control does not work at speeds below about 25 mph (40 km/h).
If you apply the brakes, the cruise control shuts off.
CAUTION:
Cruise control can be dangerous where you cannot drive safely at a steady speed.
So, do not use your cruise control on winding roads or in heavy traffic.
Cruise control can be dangerous on slippery roads. On such roads, fast changes in tire traction can cause excessive wheel slip, and you could lose control. Do not use cruise control on slippery roads.
CAUTION:
If you leave your cruise control on when you are not using cruise, you might hit a button and go into cruise when you do not want to. You could be startled and even lose control. Keep the cruise control switch off until you want to use cruise control.
See also:
Average Vehicle Speed
This display shows the average speed of the vehicle in miles per hour (mph) or kilometers per hour (km/h). This average is calculated based on the various vehicle speeds recorded since the ...
Roadside Assistance Program
U.S.: 1-800-252-1112 TTY Users: 1-888-889-2438 Canada: 1-800-268-6800 As the owner of a new Buick, you are automatically enrolled in the Roadside Assistance program. This program provides techn ...
Canceling a Remote Start
To cancel a remote start, do one of the following: . Aim the RKE transmitter at the vehicle and press and hold until the parking lamps turn off. . Turn on the hazard warning flashers. . Turn t ...