Parking Over Things That Burn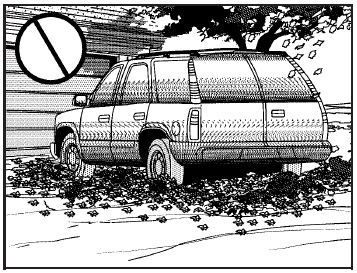 CAUTION:
Things that can burn could touch hot exhaust parts under your vehicle and ignite. Do not park over papers, leaves, dry grass, or other things that can burn.
See also:
Brake Fluid
The brake master cylinder reservoir is filled with DOT 3 brake fluid as indicated on the reservoir cap. See Engine Compartment Overview for the location of the reservoir. There are only two ...
Cupholders
There are two cupholders in the center console with a removable liner. To remove the liner, lift up on the notch on the underside of the rear of the cupholder. Rear Seat There are two cupholders ...
Tilt Wheel
The steering wheel should be adjusted before you drive. The tilt lever is located to the left of the steering column, under the turn signal lever. It can be raised to the highest level to give ...