Off-Road Recovery
The vehicle's right wheels can drop off the edge of a road onto the shoulder while driving.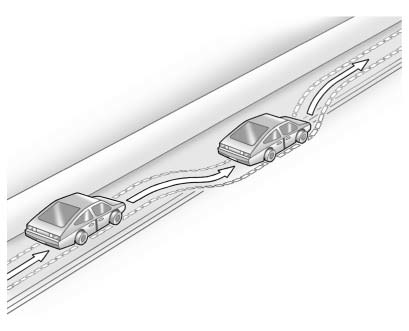 If the level of the shoulder is only slightly below the pavement, recovery should be fairly easy.
Ease off the accelerator and then, if there is nothing in the way, steer so that the vehicle straddles the edge of the pavement. Turn the steering wheel 8 to 13 cm (3 to 5 in), about one-eighth turn, until the right front tire contacts the pavement edge. Then turn the steering wheel to go straight down the roadway.
See also:
Delayed Locking
This feature delays the locking of the doors and the liftgate when using the power lock or the remote keyless entry system. The first press of the power door lock switch or lock button on the re ...
Steering
Power Steering If you lose power steering assist because the engine stops or the system is not functioning, you can steer but it will take much more effort. Steering Tips It is important to take ...
Customization Button
(Customization): Press the customization button to access the VEHICLE SETTINGS menu and customize the settings to your vehicle. ...