Off-Road Recovery
The vehicle's right wheels can drop off the edge of a road onto the shoulder while driving.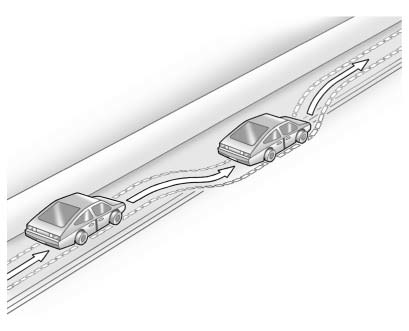 If the level of the shoulder is only slightly below the pavement, recovery should be fairly easy.
Ease off the accelerator and then, if there is nothing in the way, steer so that the vehicle straddles the edge of the pavement. Turn the steering wheel 8 to 13 cm (3 to 5 in), about one-eighth turn, until the right front tire contacts the pavement edge. Then turn the steering wheel to go straight down the roadway.
See also:
Wheel Alignment and Tire Balance
The tires and wheels on your vehicle were aligned and balanced carefully at the factory to give you the longest tire life and best overall performance. Adjustments to wheel alignment and tire bal ...
Infotainment System Overview
The infotainment system in the vehicle is a touch screen system. It is controlled by touching the screen buttons, the TUNE/MENU knob, preset buttons, and other buttons on the faceplate. The TUNE/ ...
TPMS Malfunction Light and Message
The TPMS will not function properly if one or more of the TPMS sensors are missing or inoperable. When the system detects a malfunction, the low tire pressure warning light, defined above, flashes ...