Off-Road Recovery
The vehicle's right wheels can drop off the edge of a road onto the shoulder while driving.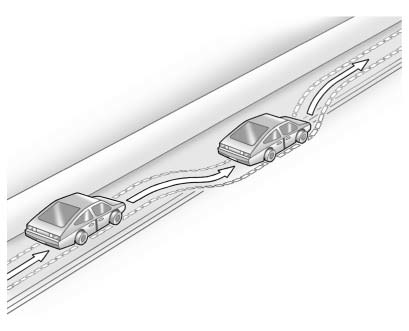 If the level of the shoulder is only slightly below the pavement, recovery should be fairly easy.
Ease off the accelerator and then, if there is nothing in the way, steer so that the vehicle straddles the edge of the pavement. Turn the steering wheel 8 to 13 cm (3 to 5 in), about one-eighth turn, until the right front tire contacts the pavement edge. Then turn the steering wheel to go straight down the roadway.
See also:
Windows
CAUTION: Leaving children, helpless adults, or pets in a vehicle with the windows closed is dangerous. They can be overcome by the extreme heat and suffer permanent injuries or even death from ...
Event Data Recorders
This vehicle has an Event Data Recorder (EDR). The main purpose of an EDR is to record, in certain crash or near crash-like situations, such as an airbag deployment or hitting a road obstacle, data th ...
Dual Tone Multi-Frequency (DTMF) Tones
The in-vehicle Bluetooth system can send numbers and the numbers stored as name tags during a call. Use this feature when calling a menu-driven phone system. Account numbers can also be stored for u ...