Off-Road Recovery
The vehicle's right wheels can drop off the edge of a road onto the shoulder while driving.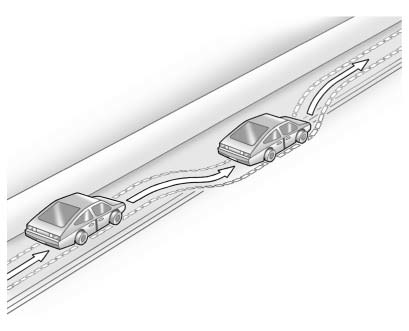 If the level of the shoulder is only slightly below the pavement, recovery should be fairly easy.
Ease off the accelerator and then, if there is nothing in the way, steer so that the vehicle straddles the edge of the pavement. Turn the steering wheel 8 to 13 cm (3 to 5 in), about one-eighth turn, until the right front tire contacts the pavement edge. Then turn the steering wheel to go straight down the roadway.
See also:
Following Distance
Stay at least twice as far behind the vehicle ahead as you would when driving the vehicle without a trailer. This can help to avoid situations that require heavy braking and sudden turns. ...
Safety Belt Extender
If the vehicle's safety belt will fasten around you, you should use it. But if a safety belt is not long enough, your dealer/retailer will order you an extender. When you go in to order it, t ...
Traction Off Light
This light comes on briefly while starting the engine. If it does not, have the vehicle serviced by your dealer. If the system is working normally, the indicator light then turns off. The tract ...