Off-Road Recovery
The vehicle's right wheels can drop off the edge of a road onto the shoulder while driving.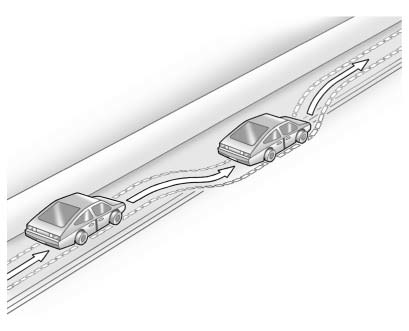 If the level of the shoulder is only slightly below the pavement, recovery should be fairly easy.
Ease off the accelerator and then, if there is nothing in the way, steer so that the vehicle straddles the edge of the pavement. Turn the steering wheel 8 to 13 cm (3 to 5 in), about one-eighth turn, until the right front tire contacts the pavement edge. Then turn the steering wheel to go straight down the roadway.
See also:
2.4L L4 Engine
2.4L L4 Engine 1. Remove the six screws on top of the engine air cleaner/filter housing. 2. Lift the filter cover housing away from the engine air cleaner/filter housing. 3. Pull out the ...
Rear Seat Audio (RSA)
This feature allows rear seat passengers to listen to any of the sources: radio, cassette tapes, CDs, or DVDs. However, the rear seat passengers can only control the sources that the front seat pa ...
Cruise Control Messages
CRUISE SET TO XXX This message displays when the cruise control is set and shows the speed it was set to. See Cruise Control for more information. ...