When It Is Time for New Tires
Factors such as maintenance, temperatures, driving speeds, vehicle loading, and road conditions affect the wear rate of the tires.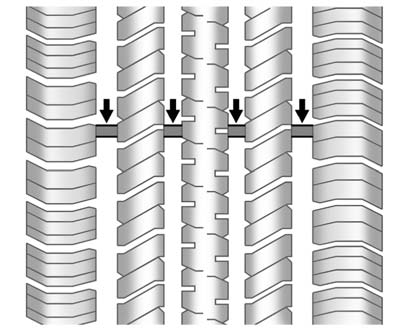 Treadwear indicators are one way to tell when it is time for new tires. Treadwear indicators appear when the tires have only 1.6mm (1/16 in) or less of tread remaining. See Tire Inspection and Tire Rotation for more information.
The rubber in tires ages over time. This also applies for the spare tire, if the vehicle has one, even if it is never used. Multiple conditions including temperatures, loading conditions, and inflation pressure maintenance affect how fast aging takes place. Tires will typically need to be replaced due to wear before they may need to be replaced due to age. Consult the tire manufacturer for more information on when tires should be replaced.
See also:
Entry Lighting
The headlamps, taillamps, license plate lamps, back-up lamps, dome lamps, and most of the interior lights turn on briefly when the Remote Keyless Entry (RKE) is pressed. See Remote Keyless Entry ...
Sunroof
Sunroof On vehicles with a sunroof, the switches are located on the overhead console. The ignition must be in ON/RUN or ACC/ACCESSORY, or in Retained Accessory Power (RAP). See Retained ...
Tire Pressure for High-Speed Operation
WARNING Driving at high speeds, 160 km/h (100 mph) or higher, puts an additional strain on tires. Sustained high-speed driving causes excessive heat buildup and can cause sudden tire failure. Yo ...