When It Is Time for New Tires
Factors such as maintenance, temperatures, driving speeds, vehicle loading, and road conditions affect the wear rate of the tires.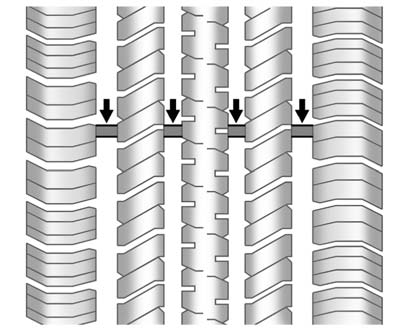 Treadwear indicators are one way to tell when it is time for new tires. Treadwear indicators appear when the tires have only 1.6mm (1/16 in) or less of tread remaining. See Tire Inspection and Tire Rotation for more information.
The rubber in tires ages over time. This also applies for the spare tire, if the vehicle has one, even if it is never used. Multiple conditions including temperatures, loading conditions, and inflation pressure maintenance affect how fast aging takes place. Tires will typically need to be replaced due to wear before they may need to be replaced due to age. Consult the tire manufacturer for more information on when tires should be replaced.
See also:
Cleaning the Display
Notice: Using abrasive cleaners when cleaning glass surfaces could scratch the glass. Use only a soft cloth and do not spray cleaner directly on the system as it could affect the mechanical ...
Luxurious interior experience
Inside, the two-tone interior is defined by a flowing, uninterrupted design theme that wraps around the instrument and door panels. Attention to detail is evident throughout the interior, includin ...
Where Are the Airbags?
The driver frontal airbag is in the middle of the steering wheel. The right front passenger frontal airbag is in the instrument panel on the passenger side. Driver Side Shown, Passenger Side Simi ...