License Plate Lamp
To replace one of these bulbs: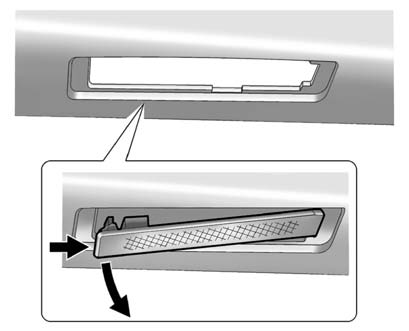 1. Push the left end of the lamp assembly toward the right.
2. Turn the lamp assembly down to remove it from the fascia.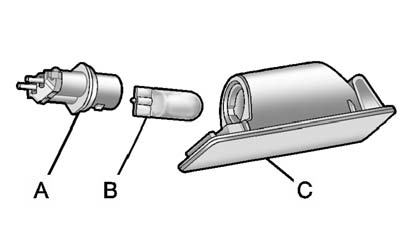 A. Bulb Socket
B. Bulb
C. Lamp Assembly
3. Turn the bulb socket (A) counterclockwise to remove it from the lamp assembly (C).
4. Pull the bulb (B) straight out of the bulb socket.
5. Push the replacement bulb straight into the bulb socket and turn the bulb socket clockwise to install it into the lamp assembly.
6. Turn the lamp assembly into the fascia engaging the clip side first.
7. Push on the lamp side opposite the clip until the lamp assembly snaps into place.
See also:
Tire Pressure Monitor Operation
This vehicle may have a Tire Pressure Monitor System (TPMS). The TPMS is designed to warn the driver when a low tire pressure condition exists. TPMS sensors are mounted onto each tire and whe ...
Fuses and Circuit Breakers
The wiring circuits in your vehicle are protected from short circuits by a combination of fuses and circuit breakers. This greatly reduces the chance of fires caused by electrical problems. Loo ...
If the Vehicle Is Stuck
Slowly and cautiously spin the wheels to free the vehicle when stuck in sand, mud, ice, or snow. If stuck too severely for the traction system to free the vehicle, turn the traction system off an ...