Headlamps, Front Turn Signal and Parking Lamps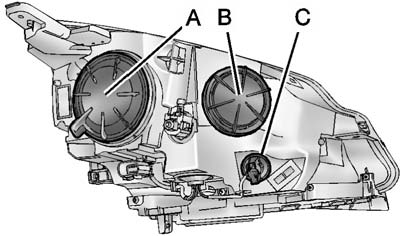 Driver Side Shown, Passenger Side Similar
A. Low-Beam Headlamp
B. High-Beam Headlamp
C. Parking/Turn Signal Lamp
See also:
Radio Messages
CAL ERR (Calibration Error): The audio system has been calibrated for your vehicle from the factory. If CAL ERR displays, it means that the radio has not been configured properly for the vehicle a ...
When the Change Engine Oil Soon Message Displays
Change engine oil and filter. See Engine Oil . An Emission Control Service. When the CHANGE ENGINE OIL SOON message displays, service is required for the vehicle as soon as possible, within the next ...
Charging System Light
The charging system light comes on briefly when the ignition is turned on, but the engine is not running, as a check to show the light is working. It should go out when the engine is started. If ...